Get Hired! 2022 Pirates Boot Camp
Wednesday, August 3rd, 2022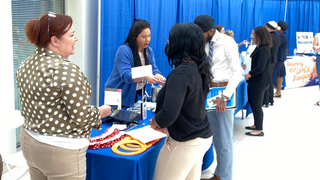 Recent Graduate Janiya Cooper and other graduates talking to employers at the Mini Career Fair
On Tuesday, June 7th, The Seton Hall University Career Center welcomed 17 recent graduates for the annual Get Hired Pirates Boot Camp. The Boot Camp is designed to assist recent graduates entering today's competitive job market with their post graduate job search and graduate applications plans. The event includes workshops on multiple topics (such as Personal Branding, Job Searching, Interviewing, and Networking) as well as a career fair for participating students.
The day included multiple professional development and networking opportunities. The event started with various workshops and one on one conversations with career advisors. During the second half of the event a mini–Career Fair was held in the Jubilee Hall Atrium where recent graduates networked with potential employers.
Darla Ortez, a graduate from the School of Diplomacy who hopes to one day become a foreign service officer, found the networking and job search strategies workshop engaging and beneficial. She explained that through the networking workshop, she learned how to improve her social skills and build confidence when engaging with potential employers. She also pointed out how the job search strategies workshop gave her personal practical steps to searching for a job in her field.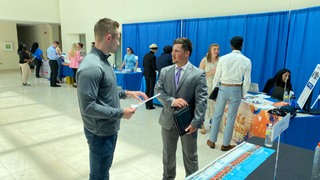 Recent graduate Justin Scotto talking to an employer at the Get Hired Boot Camp
Justin Scotto, a former baseball student athlete with a degree in Finance, reflected on how valuable he found the entire experience. He appreciated to fact that he got to meet fellow graduates going through the same process of starting out their careers. The personal branding and professional communication workshops were meaningful to him as he received tips on how to improve his communication style when engaging with prospective employers.
Scotto added that his only regret was that he "did not reach out The Career Center earlier during his time at Seton Hall as that would have enabled him put himself out there."
Janiya Cooper, a graduate from the Stillman School of Business, said the interviewing and personal branding workshops gave her tips and strategies on how to advance and navigate her career path that she had never considered. She mentioned how glad it was to participate in this event.
Nadia Sanon, an Assistant Director with The Career Center, believed the event was a wonderful opportunity for recent graduates to network and engage with their peers and prospective employers. "The various workshops spoke directly to the needs of the recent graduates as they were able to practice what they had learned immediately at the Mini Career Fair". Moving forward, she hopes the event can be held on a larger scale for graduates to create more networking opportunities and alumni connections.
The Seton Hall Career Center team is continuously looking for ways to develop new opportunities for recent graduates to be successful. The transition from university to career/graduate school can be a daunting process, however, The Career Center is here to help.
To schedule an appointment, please contact 973-761-9355.
Categories: Alumni, Campus Life