Arts and Sciences Student Angelina Paoline Shares Her Internship Experience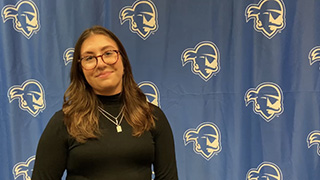 Angelina Paoline discusses her internship experience at Good Grief.
Internships are vital to college students today as they enable them to get hands-on experience within their fields while still in school.
Angelina Paoline, a junior psychology major, interned at Good Grief as a group facilitator during the Fall 2022 semester. According to their website, Good Grief is a nonprofit organization that helps "build resilience in children, strengthens families, and empowers communities to grow from loss and adversity." Paoline said she chose to intern for Good Grief because the position allowed her to gain experience working with the public.
Paoline said her responsibilities included holding nightly support groups with children and parents where she facilitated activities and discussions about grief and death. She added that creating a safe space was vital to her role to ensure that all participants felt safe sharing their stories and experiences with grief.
Along with creating a safe space, Paoline said that Good Grief taught her the proper ways to communicate within clinical settings.
"There are certain ways that you should and should not talk to people in clinical settings, and my internship allowed me to practice that and make sure that everything I was saying was in line with what those guidelines are," Paoline said.
Paoline said the Career Center and her Career Advisor Justin Krass was the reason she got her internship at Good Grief.
"When I was interested in doing an internship, I met with Justin Krass, and he gave me a lot of different options of places that I could go based on my interests," Paoline said. "He told me about Good Grief, and whenever I went on the website and looked at it, I was very interested. Then, he helped me answer all the questions on my application, fill it out properly, and get my signatures for recent employers. Before I did my interview, I sat with him, and he did a mock interview with me just to make sure that I was ready for my interview with Good Grief."
Paoline said not to be scared to get started as soon as possible with internships.
"I know some people think that if you're a freshman or a sophomore you can't get an internship because you're not old enough or anything like that, but that's completely not true at all," Paoline said. "The Career Center welcomes students of all grades, so it's super important just to get in and get started and to not hold yourself back from these opportunities that could really propel you forward in your career."
Students should visit Compass to schedule an appointment with their career advisors to discuss internships. Students should also utilize Handshake to discover internship opportunities.
Categories: Education