5 Tips (and 6 Webinars) for Graduating Students from The Career Center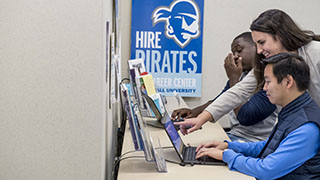 Reesa Greenwald, Director of The Career Center at Seton Hall University, has more than 20 years of leadership experience in career development, experiential education, training, and student affairs. A leader in state, regional, and national organizations related to higher education student employment, she is a former trainer with the National Academy of Workplace Learning. Areas of expertise include intern program development, career coaching, mentoring, outcomes assessment, team building and, relationship building.
Bob Franco is the Associate Director of The Career Center and an adjunct professor at Seton Hall. Prior to working at Seton Hall, he had a successful career in corporate human resources. He is author of Corporate Storyteller: The Art of Noticing Things (2015) and Sidelines (2016), and has been highlighted in The Innovation Superhighway (Debra Amidon); Leverage Points (Pegasus Communications), the Institute for Business Trends Analysis and was interviewed by WABC-TV, AOL Jobs, NJ-12TV, WalletHub, and NerdWallet.
Reesa and Bob offered these tips for students graduating from college in this unprecedented time of COVID-19.
1. You have been working in The Career Center at Seton Hall for more than two decades, have you ever experienced anything like this from an employment perspective? Although the unemployment rate is currently at its highest since the Great Depression, a recent national poll showed that more than 3/4s of Americans who have been laid off or furloughed expect to be rehired by their previous employer once the stay-at-home orders in their area are lifted. Does that distinguish this recession from others?
While the circumstances that created this situation are very different, there are and will be similarities. Some jobs will be transformed or no longer exist, while other jobs will be created due to new innovations. Job seekers should pay close attention to how employment opportunities evolve and continue to learn new skills that align with employer needs.
2. In prior recessions college graduates have often turned to graduate school in order to "wait out" the downturn and bolster their professional credentials. Can that be a good strategy for college graduates now
Graduating students need to do their research. For many careers, a graduate degree is required. For others, an advanced degree may eventually contribute to career advancement. Job seekers should consider all options based on short- and long-term implications. There are also certificate programs that will add to their credentials.
3. For those who decide to enter the job market now, what advice do you have concerning the job search?
Network, network, network! Connect with professionals in your areas of interest via social media, friends and family relationships. Attend virtual fairs and information sessions to learn about trends in the market. Identify the skills that you have that can translate. If your original plan isn't possible right now, you can be creative in your approach to your options. Don't focus exclusively on the job title or the specific organization. The Career Center team is available for any alumni who want our assistance.
4. Some graduates who already have job offers have had their offers put on hold for the time being, as many companies continue to grapple with conducting business in the midst of stay at home orders from their states. What advice would you give students in this position?
There is a distinct possibility that jobs will move to a virtual space, at least on a temporary basis. Job seekers need to be able to demonstrate their adaptability in a fast-changing employment environment. It is always good practice to stay current and develop additional skills, including technology-based ones, that will be valued in the workplace. Stay flexible and be open to new options.
5. You and your office did a series of webinars to prepare students for the job seeking process. The webinars cover "Job Search Tips and Strategies," "Interview Skills," "Resume and Cover Letter Writing," "How to Prepare for Virtual Interviews," "Building a Strategic Resume," and "Maximizing Your Linkedin Profile and Alumni Network." Do you have any other final advice for students about to enter the job market in this unprecedented time and situation?
We aren't finished. We will continue to host virtual events, which are available to our students and alumni Also, if they haven't done so already, students and alumni who want our assistance can contact us at [email protected] to access the webinars and a wealth of other resources at their disposal. The Career Center is open for business!
Categories: Alumni