Graduating Social Work Students Receive Top Honors at Senior Celebration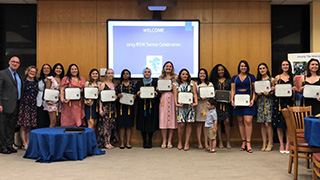 Social Work Honor Society inductees, holding up their certificate while wearing their graduation cords, are pictured with Dr. Anthony Nicotera, Professor Mary Landriau, and Dr. Dawn Apgar (l to r)
Students graduating with undergraduate social work degrees were honored on Sunday, May 19th for their achievement towards preparation for professional practice. The event, held in the Chancellor's Suite, marked completion of all degree requirements by students for their Bachelor's Degrees in Social Work (BSWs). Several weeks prior to the event, students had participated in the Social Work Education Project (SWEAP) that assessed their knowledge in all nine competency areas required by the Council on Social Work Education (CSWE), the accrediting body for social work education. Results indicated that BSW graduates from Seton Hall scored comparably to those in all other accredited programs nationally and significantly higher than other graduates in competencies related to assessment, intervention, and research. These findings are not surprising as Seton Hall social work graduates need to prepare and present their own capstone research at a statewide symposium and the Petersheim Academic Exposition. Student posters depicting their research were on display at the Senior Celebration on Sunday.

Upon graduation, all students are eligible to become Certified Social Workers (CSWs) through the New Jersey Department of Consumer Affairs. These certifications are required for professional social work practice in most settings in New Jersey and are only available to those who graduate from accredited social work programs. Seton Hall's BSW program recently went through reaccreditation and is the oldest accredited program still in existence in New Jersey.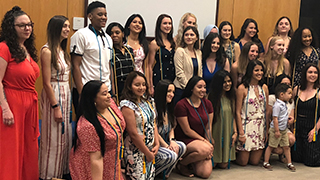 BSW graduates in attendance at the Senior Celebration pose for a group photo to mark the completion of their coursework, making them eligible for New Jersey certification to practice social work.
Fourteen seniors were also inducted into the Social Work Honor Society, Alpha Delta Mu. This Honor Society promotes excellence in social work education and professional social work practice. Its motto, "Advocate of the People," encompasses the organization's dedication to supporting and improving the lives of diverse individuals and families wherever they live. Inductees had to demonstrate their leadership capabilities, high ethical standards of behavior, and desire to promote social work services. In addition, they had to maintain academic excellence demonstrated through their grade point averages of 3.5 or higher.

Graduates from the Seton Hall BSW Program were admitted to all of the Masters of Social Work (MSW) Programs to which they applied including those at University of Michigan, Columbia University, Rutgers University, Temple University, New York University, Fordham University, Seton Hall University, and University of Buffalo. In addition, one student was accepted into the Peace Corp and will be doing international social work in Thailand. Others have already been hired full-time in the field. In addition to the honors received at the Senior Celebration, many social work students graduated Cum Laude or Magna Cum Laude and were identified with these distinctions in the commencement program at the University graduation ceremony on May 20th.