Social Work Student Research Featured at Annual Paul Shane Policy Symposium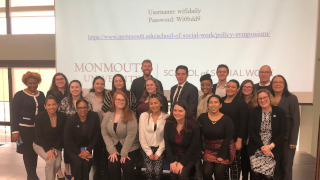 BSW faculty, Dr. Dawn Apgar, Professor Mary Landriau, and Dr. Anthony Nicotera (far right), are pictured with the social work seniors who presented their research.
Seton Hall students who are graduating with Bachelor of Arts in Social Work (BSW) degrees this spring participated in the Dr. Paul Shane Annual Social Welfare Policy Symposium, sponsored by the New Jersey Baccalaureate Social Work Education Association (NJBSWEA). BSW Faculty Associate Mary Landriau is President of NJBSWEA and was involved in the planning of this year's event hosted by Monmouth University on February 28, 2020. The theme of the symposium was "Social Work: Local Action, Global Impact." Central to this event was the opportunity for students to present their senior capstone research on policies related to international social work practice. BSW Program Chair and Assistant Professor Dr. Dawn Apgar was the research advisor for the nineteen BSW students who presented posters. This research, required for graduation, represents dedication and hard work inside and outside the classroom as BSW students begin the important transition from learners to social work professionals, acting as change agents in the field.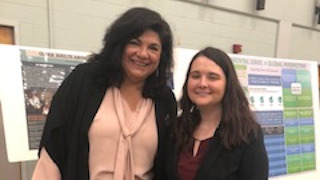 Senior Erin Mezzetti (right) shares her research with Dr. Shirley Gatenio Gabel, a Professor at Fordham University, who served as the keynote presenter at the event.
Research topics included, but were not limited to, climate change, global domestic violence services, spiritual healers, older adult abuse in South Africa, gang violence in El Salvador, social work as a professional discipline in Rwanda, protests from Columbia, female genital mutilation, dying with dignity, and combatting HIV in Eswatini. Over half of all BSW students selected to display their work at this event were Seton Hall seniors, who received high praises for their presentations by both educators and students from other universities statewide.
Retiring BSW Professor, Dr. Richard Blake was also honored for his many years of service to NJBSWEA and the social work profession in New Jersey.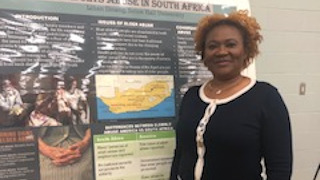 Senior Lillian Ibiang pictured with her poster presentation based on her research about abuse of older adults in South Africa.
International social work promotes social change and development, social cohesion, and the empowerment and liberation of people. International social work recognizes that multiple factors are at play when it comes to human well-being, particularly when these factors are impacted by or cross international borders. The main goals of international social work are to ease economic stress on disadvantaged communities, ensure the basic needs of individuals are met, and assist in the liberation of oppressed persons.
Categories: Nation and World, Research