Social Work Seniors Participate in Legislative Education and Advocacy Day in Trenton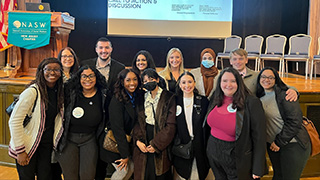 Senior social work majors in attendance (pictured here - listed alphabetically) include Patul Alomari, Karla Becht, Megan Berg, Gianna Cole, Kayla Hooey, Kiara Jesus-Rosario, Alieza Malik, Meaghan Morano, Yewande Olowe, Sadia Raza, Jarod Soltmann, and Christopher Tarashuk. Students pictured with Dawn Apgar, Ph.D., Associate Professor and BSW Program Director (back left).
On Thursday, March 23, Seton Hall undergraduate social work students who are graduating this spring joined other students and practitioners in Trenton at the Legislative Education and Advocacy Day (LEAD) sponsored by the National Association of Social Workers-New Jersey Chapter. The goal of this event is to further social workers' knowledge about policy issues in substantive areas of social work practice and teach participants about legislative advocacy. This annual event provides a great opportunity to experience legislative advocacy, as well as the law-making process. Social workers who work full-time in legislative or policy positions statewide shared their experiences and professional journeys in an attempt to get more students interested in this important area of practice.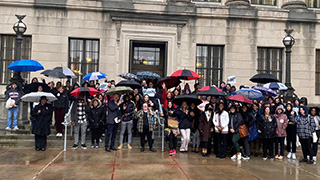 Social workers rally at the Statehouse Annex to draw attention to racial disparities in pass rates on social work licensing exams.
A primary focus of LEAD this year was advocacy for legislation related to racial disparities in outcomes on professional social work testing, increased efficiency in the processing of social work licenses, payment for educational student placements, and the interstate social work licensure compact.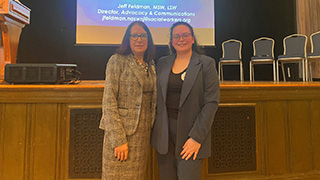 Dawn Apgar, Ph.D. with Chelsea Cordero, a 2022 Seton Hall social work graduate who is currently obtaining her Master's degree in social work at Fordham University. After doing her field placement in a legislative office while at Seton Hall, Ms. Cordero was hired immediately after graduation to work in constituent services in NJ Legislative District 38.
As a result of their participation in LEAD, social work students gained competency in political action to promote social, economic, environmental, and justice, as well as human rights. Practicing social workers must act to prevent and eliminate domination of, exploitation of, and discrimination against any person, group, or class on the basis of race, ethnicity, national origin, sex, sexual orientation, gender identity or expression, age, marital status, political belief, religion, immigration status, or mental or physical disability.
Categories: Education