SHU BSW Student Elected to the National Association of Social Workers' Board of Directors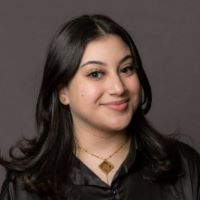 Exceptional Seton Hall undergraduate student Hana Kisswani was recently elected to the National Association of Social Workers' (NASW) Board of Directors as their BSW Student Representative, where she aims to create a positive change and support the organization in every way she can. Hana is the only undergraduate social work student to serve in this position nationally.
Established in 1955, NASW has become the leading global membership body for social workers today. The organization is dedicated to fostering the professional advancement of its members, advocating for social policies and social justice, and maintaining standards for the social work profession. It is governed by a Board composed of elected members serving as representatives of the Association's diverse membership. This group plays a crucial role in setting the strategic direction and vision for NASW, overseeing the organization's activities and initiatives, and ensuring that it remains aligned with its mission and values.
An incredibly passionate and dedicated social work student, Hana was inspired to run for this position because she recognizes what an essential resource NASW is to professionals in the field. In this new position, she strives to innovate within the organization through continuous social work education and professional collaboration with other members. Hana embodies the core values of the social work profession by highlighting the importance of service to others and challenging social injustice on any level.
"It is an absolute honor to have been elected," says Kisswani. " I also pursued this position so that I may represent and support the upcoming new generation of social workers."
Since enrolling at Seton Hall, she has been making strides as a gifted student, leader, and valuable campus community member. Hana can be seen helping on the executive board for our campus' Middle East North African Club and Palestinian Student Association, helping cultivate safe spaces for like-minded and hardworking students on campus.
Hana cites her time with Seton Hall's nationally accredited social work program as an integral assistant to her academic success and her pursuit of this new position. The social work program made her aware of NASW and always encouraged students to join and learn more about the association. It is an excellent opportunity for students to connect and learn from professional social workers.
"Seton Hall's undergraduate social work program has provided a great educational curriculum, placements where students can maximize their learning, and a team of wonderful professors who are passionate about educating future social workers like me," expressed Kisswani.
Kisswani shares her projected future and aspirations as a social work professional, "As I progress through my social work education, I've learned so much about our role as professionals, as well as the social injustices that impact the individuals, families, and communities we advocate for. I want to integrate everything that I have learned in social work, including our values and competencies, with the law to ensure that communities facing inequality within the justice system have adequate representation. Our justice system needs individuals like me who understand the limitations of poverty and the impact of racism to incite change. Helping communities have access to resources as well as legal representation is what inspires me to become a social worker and lawyer."
Hana's unwavering commitment to social justice and community advocacy serves as a prime example of the impact young professionals can have in shaping the future of the field. She embodies the spirit of NASW's mission and poses a promising force in the ongoing pursuit of a more equitable and inclusive society.