Fighting for the Rights of Others: Dawn Apgar's Research Is Shaping a New Era of Social Work Practice and Activism
Friday, December 16th, 2022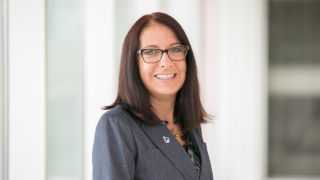 Many people who would excel in the field of social work aren't even aware the profession might be their true calling—which is why Seton Hall's Dawn Apgar, a nationally recognized leader in social work, is on a mission to demystify what social work is and recruit future leaders to the field.
"Do you want to help people, through individual-level therapy or as a social activist? Are you fighting for the rights of others? If so—social work is for you," Apgar says. Throughout her career, she has often seen students earn degrees in psychology or sociology and then wonder how to get their foot in the door as mental health practitioners or advocates for people living with disabilities or experiencing homelessness. "They didn't know social work was a direct path to pursuing their career goals," she says.
A renowned expert and beloved educator, Apgar has literally written the books that prepare social workers to pass their Association of Social Work Boards (ASWB) licensure exams. She says a degree in social work can unlock doors to many different careers geared toward helping others. "Some social workers work in small systems, and others in larger ones," she says. "I started my career working with individuals living with disabilities in a group home, where I fought for de-institutionalization and for helping people with disabilities live in their community."
That experience prompted Apgar, who had received her bachelor's degree in psychology, to pursue a master's degree (and then a Ph.D.) in social work at Rutgers. There she engaged in research examining policy, practice and education: three pillars of social work. After earning her Ph.D., she joined the New Jersey Institute of Technology as director of the Developmental Disabilities Planning Institute. For 14 years, she led research on federal policies regarding intellectual disabilities. In that role, she was a subject-matter expert in class-action lawsuits that reformed New Jersey state laws, advocating for the rights of people with disabilities.
When Chris Christie, J.D. '87, former New Jersey governor, first took office in 2010, he tapped Apgar to lead reform efforts to benefit residents living with intellectual and developmental disabilities, substance-use disorders and mental health conditions. She became Deputy Commissioner of the New Jersey Department of Human Services, a massive agency that employed one-third of state workers (a staff of 15,000) and an annual budget of nearly $19 billion.
"We reformed the entire system, making it a Medicaid-based system that allows us to invest state money into community services in an unprecedented way," Apgar says. "Compared to the beginning of my career, I had moved from a small system to a very large one. You have to know when you can make the most difference working in the system, and when you can best make impact outside of it."
In 2016, Apgar arrived at Seton Hall to pursue research and train the next generation of social workers. She is currently an associate professor in the Department of Sociology, Anthropology, Criminal Justice and Social Work, and is affiliated with the Hackensack Meridian School of Medicine. She is a key faculty member in Seton Hall's distinguished Master of Social Work (MSW) graduate program.
"I'm doing what I do best: using data to ask difficult questions. Are we preparing social workers to do the advocacy work called for by our code of ethics? Is our educational system preparing people properly? I am focused on reshaping the practice, regulation and education of social work," she says.
One area of research Apgar is particularly focused on is using data to combat racism in social work. "There have been data released recently about racial disparities in social work licensure exams, and although I'm a huge advocate for licensure, those data don't sit well with me," she says.
"We need competency-based assessments, but what does that process look like in a more equitable future?" she asks. "We must apply an antiracist approach to social work education: Are people coming into social work with historical disparities that we're not helping to mitigate? Are there micro-aggressions built into the licensure exams? We need to understand this issue better—and how we solve for this challenge will be really important."
When it comes to asking tough questions and using data to shape the field, Apgar recruits Seton Hall students to roll up their sleeves and do research alongside her. "Our social work students at Seton Hall are on the cutting edge," she says.
Mackaully Parada '17, a graduate student in social work, recently coauthored a peer-reviewed paper with Apgar in response to a 2021 revision to the National Association of Social Workers (NASW) ethical code, mandating that social workers engage in self-care. In their paper, forthcoming in Advances in Social Work, Parada and Apgar argue that the need for self-care is directly linked to "poor working conditions, inadequate pay, unavailability of quality supervision and lack of professional recognition."
"Putting self-care in the social worker's code of ethics is like blaming the victim," says Apgar, who is former president of the New Jersey Chapter of NASW and has been a member of NASW's National Board of Directors. "Social workers work in difficult environments with low pay; this is a social justice issue."
Another forthcoming paper, coauthored with Thomas Cadmus '20, confronts an NASW ethical standard that bars social workers from googling information about their clients. Cadmus and Apgar believe this standard is outdated, since the Internet and people's presence on it contributes so significantly to their environment and lived experiences.
"While internet searching of clients is widely used in business and other professions, its value in social work has been largely unrecognized," they write in the paper, which will appear in The Journal of Social Work Values and Ethics.
Earlier this year, Apgar wrote research papers tackling issues of education, licensure and regulation:
She also wrote on the issue of licensure portability, the ability for a social worker's license to be valid in multiple states.
"Portability is really important. It will give social workers great access to doing work in remote areas," Apgar says. "Right now, however, social workers need to get licensed in every different state they work in, with state-by-state fees, paperwork processes and fingerprinting. If a client moves to a different state, a social worker may be understandably reluctant to pursue a new license in that state, which disrupts access and continuity of care. Especially now, with the rise of telehealth we have seen since the COVID-19 pandemic began, portable licensure will allow social workers to better reach marginalized people in rural areas."
As a researcher and practitioner, Apgar sees herself as a partner to her students. "We see where students want to go in their careers, and we work with them throughout their time at Seton Hall to help them become thought leaders."
She says graduates of the bachelor's degree in social work program have achieved a stunning 100 percent rate of employment or graduate school admission. "Every student in our program leaves with a job or gets into a graduate school of their choice; one third of students who go on to graduate school get into Ivy League or top-tier programs," she says.
Even after students have graduated, Apgar stays involved. "We're working with our students and setting them up for lifelong success. We're not thinking about just the four years of their bachelor's program—we're thinking about the next 40 years of their lives and careers."
Apgar's connections throughout New Jersey's human services systems have enabled her to place students in hands-on internships within statewide councils, legislative offices and organizations providing services to people with disabilities—internships that typically turn into job offers.
"Most of the time, students who want to go to grad school find that they're turning down job offers to do so," Apgar says. "We are creating new leaders in social work… it's such a fascinating time to be an educator right now. Social work is more than a degree, it's a career. And with technology, we're seeing new ways of reaching students and clients, and we're also identifying new and unprecedented social issues as they arise. We're entering a whole new era of practice."
Categories: Arts and Culture