Seton Hall and East Orange Graduate 300 Plus Students from Summer Work Experience Program
Tuesday, August 25th, 2020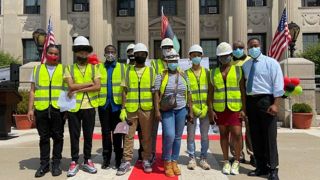 In a graduation ceremony marked with workforce certifications and a finale fair that showcased the newly-acquired skills of its students, the City of East Orange concluded its first virtual Summer Work Experience Program (SWEP) in what students dubbed "SWEP-Fest."
The fruits of the students' summer labor was on display at SWEP-Fest, as tables and stations throughout the East Orange City Hall Plaza were filled with web and graphic design work, hair care and cosmetology demonstrations, multi-media presentations and skits that acted out workplace safety and physical training best practices.
Many of the displays included business plans, as the program stressed entrepreneurship and featured presentations from a number of successful business owners.
"This program taught me a different mindset," said Omya Vincent, a student in the program who received certification in Personal Care for Hair and Makeup. "The African American hair care business is valued at $2.5 billion per year. I'm going to start my own business."
The East Orange Summer Work Experience Program ran for 20 hours per week since July 13 and offered six modules for its 300 plus students: OSHA 30 for construction and labor; Media/Podcast; Music Development; Personal Care for Hair, Makeup, etc.; Web/Graphic Design; and Wellness/Physical Fitness.
Students chose one module and received certification in that area upon completion of the six-week program and were paid $10 per hour for their work. A small number of interested applicants also received traditional on-site employment with the city's Department of Public Works and the East Orange Water Department.
In addition to stressing job-related and entrepreneurial skills, the program also included regular lessons on civic engagement and social justice. The students took those lessons and incorporated them in organizing a student-led peaceful protest demanding justice and the release of unedited video in the case of Maurice Gordon, an unarmed black man who was killed by a New Jersey State Police officer on the Garden State Parkway. The protest was featured in media outlets throughout the United States, including in The New York Times, The Washington Post, Houston Chronicle, NJ.com and the San Francisco Chronicle, and internationally in Yahoo UK, the Taiwan News and Nigeria Trending.
"This program, partnering with celebrities, business leaders, activists and Seton Hall University, brought academic, civic and entrepreneurial opportunities to our students as well as jobs this summer," said East Orange Mayor Ted Green. "And through those partnerships, our students have developed skills that will continue to pay dividends for themselves and the community."
The virtual work experience program was offered through V.I.P. Online Academy, which was started in response to COVID-19 by author and entrepreneur Jamila Davis in partnership with civil rights activist Tamika Mallory and Love and Hip Hop's Yandy Smith. The East Orange program is under the direction of Mayor Green and Professor Juan Rios, director of the Master of Social Work program at Seton Hall University.
"Our program has received a great outpouring of support from the community," said Davis. We've received laptops from the Electronic Access Foundation with the help of Grades for Life; hair care and beauty supplies from the Janet Collection for our students preparing to enter the $2.5 billion African-American hair care market; and additional supplies such as makeup and eyelashes from KISS Cosmetics."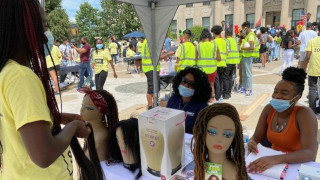 A number of the students set to receive certification in the Personal Care for Hair and Makeup module within the program have been offered employment as brand ambassadors and independent distribution stylists by the Janet Collection, a leading innovator in the hair care business headquartered in Moonachie , New Jersey with retailers throughout North and South America, Africa, Europe, Asia and Australia.
"We are proud to partner with the City of East Orange on this program," said Janet Collection General Manager Mark Lee. "At heart, our products are all about self-empowerment, allowing woman to look and feel their best. This program, and hiring its graduates, is all about empowerment and is part of a larger partnership with members of the African-American community and the City of East Orange we are preparing to announce."
Blackstone 360, a Newark-based vertically integrated real estate development, construction and management firm that is in the process of building its fifth luxury high-rise in the City of East Orange, has also committed to hiring a number of the OSHA Certified students from the Summer Work Experience Program. The company, which is also known as B360, has been credited with helping to spur a renaissance within the City of East Orange with its development of 800 plus luxury apartments and 40,000 sq. ft. of commercial real estate along the South Harrison Street gateway corridor. "Renaissance isn't just about trend setting architecture," said B360's Director of Finance & Operations Ibrahim Hasan. "It's about people, lifestyle, and developing better communities. B360 is honored to partner with the City of East Orange on this next phase of student workforce development."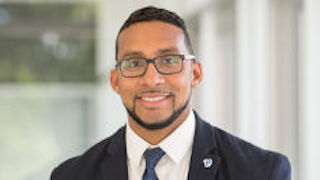 Professor Rios, Director of the Graduate Social Work program at Seton Hall University, spearheaded the initiative at Seton Hall and developed the means to track and gauge the success of the program, measuring self-efficacy through a pre/post-test assessment model to provide data points on the outcome variables, thereby allowing for success-based adjustments in programming for subsequent iterations in East Orange and other cities.
"The goal is to continue to assess and ultimately collect data for future iterations," said Professor Rios. "But I can tell you in its initial stages this program has shown real promise and very real results: employment skills, jobs, businesses and a civic voice to those who didn't know they had one," Rios said. "It's priceless, really. And as the program gains momentum and additional partnerships within the University, the business community and civic leaders, it will bring even greater opportunities to both the students and the community."
Categories: College of Arts and Sciences