Philosophy Major Accepted to Yale's Summer Institute in Biomedical Ethics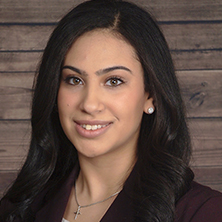 Philosophy major Elizabeth Shehata will attend the 2019 Sherwin B. Nuland Summer Institute in Bioethics at Yale University. Now in its 14th year, participants engage in discussions on a wide range of topics including gene editing, environmental ethics and social justice, and patient-centered clinical ethics. This program is highly competitive, attracting some of the top healthcare professionals, graduate students, and academics from around the world.
Elizabeth is one of the select undergraduates accepted into the program and will study biomedical ethics alongside students and practitioners from a variety of institutions including Yale, Columbia, MIT, Johns Hopkins, Harvard, UCLA, Mount Sinai School of Medicine, and Universidad Europea de Madrid. Recent alums of the Summer Institute have presented their work at bioethics conferences at Oxford, UNESCO, and the American Society of Bioethics.
Elizabeth explains her motivation: "I am honored to have been accepted into this program. I consider it vital that physicians are well trained to understand and confidently work through the ethical dilemmas that they will face when practicing medicine. Studying philosophy and biomedical ethics will aid in my journey towards becoming a well-rounded physician, namely one who is attuned to the philosophical, ethical, and humanistic facets of the medical field."
"We are very proud of Elizabeth for earning this academic distinction and becoming a trailblazer in this important interdisciplinary work," says Peter Shoemaker, dean of the College of Arts and Sciences. "As a Catholic institution with a growing footprint in medical sciences, Seton Hall is developing a strong academic focus on Biomedical Ethics."
After graduating from Seton Hall, Elizabeth intends to go on to study medicine at an elite medical school. Along with taking the prerequisite science and mathematics courses, Elizabeth's major in philosophy prepares her to excel in medical school. Philosophy majors develop the critical thinking, complex problem solving, and communication skills that are demanded of healthcare professionals. Additionally, philosophical ethics is an important component of medical education as well as medical practice. Philosophy provides students with a background that medical school admission boards value. According to data from the Association of American Medical Colleges, philosophy majors have a higher rate of acceptance than some traditional premed majors, and other majors in the humanities fare equally well.