NJ ACS Project SEED Symposium Returns to The Hall
Thursday, September 15th, 2022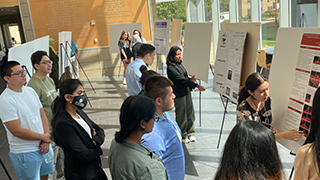 Project SEED Student presenting to a group of SHU Undergraduate and Graduate students.
For more than 20 years, the Department of Chemistry and Biochemistry within the College of Arts and Sciences has hosted the annual North Jersey American Chemical Society (ACS) Project SEED Symposium.
That tradition continued earlier this month when Professors Cecilia Marzabadi, Ph.D., and Joseph Badillo, Ph.D. – in collaboration with the ACS Project SEED Committee – hosted 15 local high school students from Rutgers University, New Jersey Institute of Technology, Kean University and Seton Hall for a smaller-scale symposium on Saturday, September 10.
Held in McNulty Hall, students were invited to present their research as part of Project SEED, which aims to provide college-level research experiences for economically and socially disadvantaged high school students and inspire students to pursue careers in higher education and STEM disciplines. As part of the program, students work in the laboratory doing hands-on research guided by a scientist-mentor.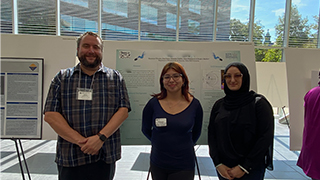 Prof. Joseph Badillo (left), SEED Student Dayannara Vilcarino from Jose Marti Academy in Union City (middle), and Seton Hall Graduate Student Zena Salem (right).
The symposium also marks the program's return to in-person research as Project SEED pivoted to a virtual summer bootcamp series due to the COVID-19 pandemic. Held in 2020 and 2021, the previous bootcamps aimed to help high school students prepare for the college application process.
This summer, Project SEED returned to in-person research which in turn, allowed for a smaller-scale gathering of those involved. In previous years, the symposium brought more than 75 students to Seton Hall University's South Orange campus, who presented their summer research representing more than 19 universities including Rutgers, Montclair State, William Patterson, St. Johns and more.
The symposium was an enormous success and next year, the Department plans to bring back the larger Annual North Jersey ACS Project SEED Symposium.
"In 2023, we are looking forward to having students from all over North Jersey and New York back to Seton Hall to share their summer research!" reflected Professor Badillo.
Categories: Research, Science and Technology