New Collaborative Suite of Laboratories Training STEM Students for Success
Thursday, February 13th, 2020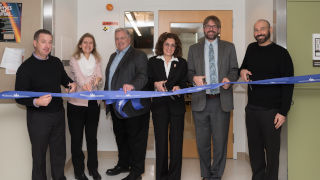 Celebrating the dedication of the new multi-purpose collaborative suite of laboratories in McNulty Hall 116.
Seton Hall University is celebrating its latest achievement in its efforts to provide excellence in undergraduate and graduate STEM education with the recent dedication of McNulty Hall 116, a multi-purpose collaborative suite of laboratories for teaching, for the preparation of instructional chemicals, glassware and equipment, and for research.
The conversion of this space to high-tech advanced laboratories enables the science departments to more successfully attract, motivate and retain students in the science-related majors. Freeing up space assists in scheduling lab time and unpacks the learning environment into less dense sections to afford more frequent and higher quality interactive experiences in which faculty and staff can engage their learners. This bolsters academic excellence for students seeking degrees in STEM fields as well as rising nursing, health and medical professionals across the university. The suite also affords research activity that will engender more opportunities for students and faculty/staff alike to collaborate in hands-on advanced research projects.
"The new multi-purpose lab was designed to serve all of the departments in the building, and to foster collaboration. Collaboration – between institutions, senior researchers, post-docs, and students – is the way that science works, and, as we are learning, it also is the way that deep student learning takes place," explained Peter Shoemaker, Ph.D., Dean of the College of Arts and Sciences.
In the last decade, the University has experienced tremendous growth in students pursuing STEM degrees. For example, the chemical and biological sciences have seen increases in enrollment of 79 percent and 164 percent, respectively over this period. To meet the needs of graduate students, the University is now offering a Master of Science in Physics and a Master of Science in Data Science.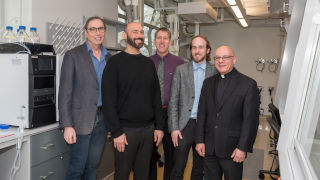 From left, Professors Stephen Kelty, Cosimo Antonacci, James Hanson, Gregory R. Wiedman and Reverend Gerald Buonopane celebrate the arrival of the high-tech equipment.
Associate Dean Janine Buckner coordinated this major capital project, working closely with the Provost's Office, Facilities Engineering, STEM departments throughout the university and external contractors KSS Architects and J.R. Prisco. Commending so many involved in this University-wide effort, she especially praised project managers and architects Michael Marconi and Victoria Pivovarnick, both in Facilities Engineering, and the patience and good will of the Mathematics and Computer Science Department for their numerous moves including between McNulty and Schwartz Hall and then to the second floor of McQuaid. McQuaid was renovated to provide both updates office and gathering spaces and, importantly, the Hall's compliance to national ADA standards. In addition, she acknowledged the generous support of STEM staff members in the departments, as well as the financial contributions of the University Board, the Provost's Office and facilities engineering.
The initial plan was approved in August 2018 and was designed to accommodate multipurpose usage. Due to the specialized nature of organic chemistry, however, the teaching lab space must contain specialized fume hoods and equipment. This second teaching lab also will help to eliminate the current bottleneck in scheduling and allow an increase in the number of students served.
Perhaps the biggest challenge for the College was finding workable space and at the same time meeting the needs of faculty and staff. Major construction challenges included changing over the air system from office air to lab air. To do that more than 600 feet of ductwork was installed to provide lab exhaust and supply air in all its forms within the building shafts, along the exterior façade, in the mechanical penthouse and across the roof. In McQuaid Hall, a number of ADA improvements were made including installing a handicap lift and repairs to the exterior handicap ramp. Second-floor restrooms were also renovated to ensure accessibility of both faculty and students in the new math offices area.
The cutting-edge equipment installed in the renovated space of McNulty 116 Suite is impressive. For instance, pointing out the latest infrared technology equipment in Teaching Lab 116C, Professor Stephen Kelty, Chairperson of the Department of Chemistry and Biochemistry explained that undergraduate students will have a career advantage when they interview for graduate positions or industry employment. Their experience and access to the advanced level of tools such as the new microwave equipment will be invaluable.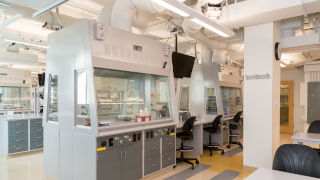 "The availability of modern equipment for students greatly enhances the learning experience. For example, the use of microwave reactors significantly reduces the time required to carry out chemical reactions. This allows more of the three or four hour laboratory period to be devoted to characterization and analysis," said Kelty.
Cosimo Antonacci, Ph.D. , lab director and lecturer for Chemistry and Biochemistry, worked closely with Shimadzu Corporation, to obtain a grant used toward the purchase of an FT-Infrared spectrometer, Gas Chromatography and High Performance Liquid Chromatography instruments. Through the Shimadzu academic grant program the university received $53,000 that together with matching funds to support undergraduate and graduate student researchers totaled a grant of $60,000.
"Shimadzu provides a broad range of analytical instruments that are indispensable for research, development and quality control in various fields. Students will be working on those instruments with me to streamline experiments to ultimately integrate into routine utilization in the teaching lab. In the end, they will serve to train students on state-of-the-art analytical equipment," said Antonacci.
Professor Suzanne Quartuccio Gantar described cancer-related experiments she is undertaking with her biology students in the research lab. "Our lab is studying the function of the meiosis-specific gene, Aurora kinase C, in cancer cells and evaluating its potential as a therapeutic target to treat cancer. Because this gene is not expressed in normal cells, therapeutics targeted against it would have limited side effects which could improve overall patient survival," she shared.
Shoemaker highlighted two student-centered initiatives that capture the spirit of STEM education at the University: a Green Chemistry initiative as well as a Biological Sciences initiative for informatics and genomics.
"Green Chemistry is an emerging discipline that focuses on developing products and processes that minimize or eliminate the use and generation of hazardous substances," explained Shoemaker. And in terms of both undergraduate and graduate biology students, Shoemaker added, "With the 'big data revolution,' more and more biological research takes place not only at a bench within a lab, but also in front of a computer screen, accessing massive databases of information."
Incorporating these new initiatives into the curriculum provides an edge to our students with respect to their peers at other institutions. The new laboratories and initiatives strategically provide distinction in academics and scholarship, enabling the University to better academically prepare students for success.
Categories: Science and Technology