Professor Ines Murzaku Selected for Fourth Fulbright Award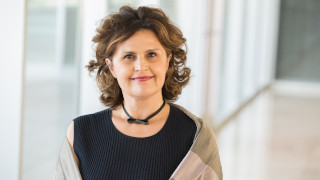 Ines Angeli Murzaku, Ph.D., professor of religion and director of the Catholic Studies program at Seton Hall University, has been selected by the J. William Fulbright Foreign Scholarship Board for a Fulbright award to Ss. Cyril and Methodius University in Skopje, North Macedonia. This will be Murzaku's fourth Fulbright award; she has previously completed Fulbright research twice in Italy and once in Slovenia.
Murzaku will serve as a Fulbright senior specialist in the St. Clement of Ohrid Faculty of Theology in Skopje. Since its founding in 1967, St. Clement of Ohrid Orthodox School of Theology has been dedicated to international and interdisciplinary studies. The School of Theology, which is devoted to preparing educators who are equipped to meet the needs of the Church, has about 1,250 enrolled students, of which 275 are graduate students. The faculty's scholarship and teaching span across the fields of theological-historical studies, religious studies, ecumenism, and interreligious dialogue. Murzaku's project at the School of Theology will focus on ecumenism (Orthodox and Catholic) and interreligious dialogue (Christian and Muslim).
"Professor Murzaku's Fulbright Award provides a wonderful example of how our stellar faculty foster international collaboration and interdisciplinary research, facilitate the sharing of experience and expertise in the field of higher education, and contribute to the development of Catholic higher education and interreligious dialogue," said Katia Passerini, Ph.D., Provost and Executive Vice President.
Professor Gjoko Gjorgievski, Dean of the School of Theology at St. Clement of Ohrid, highlighted the benefits that both Ss. Cyril and Methodius University and Seton Hall will reap from this experience.
"I am very happy to welcome Prof. Ines Murzaku to the St. Clement of Ohrid Faculty of Theology in Skopje. Our collaboration will be beneficial to both our institutions, and I hope this Fulbright will build more bridges of cooperation for future common-interest programs. Ecumenism and interreligious dialogue are much needed in our day and age, and this begins with an ecumenical education, knowing the commonalities of our religious traditions and building on them—and this is exactly what we will do. With Prof. Murzaku we will explore how differing aspects in our traditions (Orthodox and Catholic) can become opportunities to express the same apostolic faith," Georgievski said.
Murzaku shared that North Macedonia will provide fertile ground for her research on how interreligious dialogue can promote peace. North Macedonia is a multi-religious and multi-ethnic country. The religious makeup of the population is Macedonian Orthodox 64.8%, Muslim 33.3%, other Christian 0.4%, and other and unspecified 1.5%. The ethnic makeup of North Macedonia is Macedonian 64.2%, Albanian 25.2%, Turkish 3.9%, Romani 2.7%, Serb 1.8%, other 2.2%.
"The issue I will research is the place of religion in North Macedonia, how religion can be an agent of peace, and the impact of ecumenism and interreligious dialogue in peace-building," said Murzaku.
As a Fulbright senior specialist, Murzaku will offer specialized seminars and work closely with the Orthodox faculty in three main areas. First, she will lead an examination from religious and historical standpoints of the multi-confessionality of the region (relations between Christianities—Eastern Orthodoxy-Catholicism, and between Christianity and Islam). Second, she will seek to establish how religions have formed and shaped people's identity in the Former Yugoslav Republic of Macedonia. Third, she will explore if religions, ecumenism, and interreligious dialogue can influence contemporary area politics and contribute to bridge-building and peacebuilding among people of different ethnicities and religions.
Skopje is an area of special personal and professional interest for Murzaku, who recently published the groundbreaking book, Mother Teresa - Saint of the Peripheries (Paulist Press). She explained: "Skopje is the birthplace of Mother Teresa, who embodied all the ecumenical and interreligious best practices on which my research and teaching at the Orthodox School of Theology in Skopje will focus. I am incredibly grateful to Fulbright for the opportunity to follow in her footsteps, starting in her native city, to learn more fully the traditions of tolerance she cultivated and which motivated her mission throughout her life."
Georita M. Frierson, Ph.D., Dean of Arts and Sciences and Professor of Psychology, congratulated Murzaku on her significant achievement: "It is inspiring to witness Dr. Murzaku's commitment and dedication to world peace via interreligious dialogue. It is a privilege to work with Dr. Murzaku and celebrate her success in being selected as the Fulbright Senior Specialist."
The first state university in the Republic of North Macedonia, Ss. Cyril and Methodius University, founded in 1949, is a major research university, with 23 faculties, 5 research institutes, and 4 public scientific institutions. It serves students from the undergraduate level through the doctoral level, and it is dedicated to maintaining a dynamic relationship with its surroundings, developing academic and cultural offerings in response to the needs of North Macedonia and of Europe.
The Fulbright Program aims to increase mutual understanding between the people of the United States and the people of other countries. Fulbright alumni have become heads of state, judges, ambassadors, cabinet ministers, CEOs, and university presidents, as well as leading journalists, artists, scientists, and teachers. They include 57 Nobel Laureates, 82 Pulitzer Prize winners, 70 MacArthur Fellows, 16 Presidential Medal of Freedom recipients, and thousands of leaders across the private, public, and non-profit sectors. Since its inception in 1946, more than 370,000 "Fulbrighters" have participated in the Program.
Categories: Arts and Culture