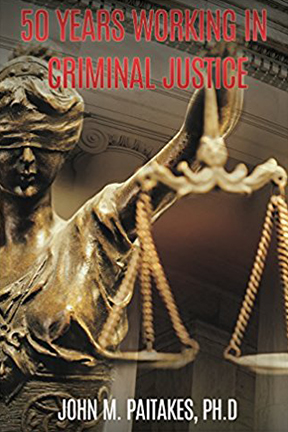 When retired Seton Hall professor John Paitakes was hired as a probation officer in Somerset County, New Jersey, shortly after graduating from college, it wasn't necessarily intended to be a career move. "I was a business major. My father owned a diner, so that's where I worked," recalls Paitakes. "But he ended up selling the business, and I found myself unemployed. That's when I heard about an opening working for the courts. They hired me on a temporary basis; I worked for a year or so until I took the civil service exam. In that time, I grew to really like the field."
Fifty years later, Paitakes has established an impressive career in criminal justice. He currently sits on the New Jersey State Parole Board, to which he was appointed by Governors Chris Christie and, previously, Christine Todd Whitman. This past October, he released a book titled 50 Years Working in Criminal Justice, which offers practical and valuable advice for those looking to secure a career in the field. So how did he go from a young, inexperienced probation officer to one of the best known, most respected individuals in New Jersey criminal justice? It certainly wasn't without a few lessons learned along the way.
Make the effort to meet and connect with as many people as you can in the field you're interested in.
Paitakes asserts that networking was an important factor in getting him to where he is today. As the saying goes, "It's not just what you know, it's who you know." "I knew nobody when I first got started. A chief probation officer told me I would have to be interviewed by a judge when I was looking to become a probation officer, so I started there and developed my own network," says Paitakes. He came to know Governor Whitman during her time as a freeholder in Somerset County, where he served as a probation officer for 29 years. And while he had only met Governor Christie once at a reception, he had gotten to know a few key people, including U.S. Marshal James Plousis, while they were all on the transition team before Governor Christie took office. "You're supposed to recommend to the incoming governor how to improve the criminal justice system, and Plousis and others recommended me to Christie," says Paitakes. This recommendation ultimately led to his second appointment to the New Jersey State Parole Board.
You have many more resources at your disposal nowadays. Take advantage of them.
In the early part of his career, Paitakes leveraged an opportunity that would help him get further academically. "The federal government offered a grant that would fund an advanced degree as long as you stayed within the organization for a certain period of time," he says. "So I went to Rider and earned my Master's in Counseling, and then I went for my Ph.D. in Public Administration." With the prevalence of the internet and social media, resources like this are even more plentiful and can be discovered much more easily.
Learn to think critically.
A key offering of the College of Arts and Sciences, where Paitakes taught for 20 years, the ability to think critically is crucial in the criminal justice realm. "You have to make sure you know the difference between fact and fiction within the criminal justice system. Headlines are often not the full story. Nationally, this is one of the greatest issues facing the country," he says.
Securing an internship is a very important step that should not be overlooked.
During his time at Seton Hall, Paitakes worked with the Career Center's Reesa Greenwald as an internship coordinator for criminal justice. In this role, he helped students find jobs and secure internships with the aid of the contacts he had established in county and state agencies. With his assistance, students obtained internships with the state police, local police, probation and parole departments and private security, among others. "It's one thing to know the agency, but it's another to know the name. These people get resumes from so many different schools, so when I knew personally the director in charge, that was very helpful," says Paitakes. Often, the internship would lead to a full time position after graduation, which Paitakes says was very rewarding. "Competition is great in criminal justice. The degree is solid, there are a lot of graduates in the state and the salary has increased. So you graduate with a degree, but there are so many other graduates from all over the state. What distinguishes our student from someone else's? That's where the internship experience can help," he says.
Additional tips for building a successful career in criminal justice can be found in Paitakes' book, 50 Years Working in Criminal Justice.
Categories: Arts and Culture