Environmental Studies Celebrates Earth Day and More
April is always a busy month in the academic year. But that was especially the case for students in the Environmental Studies program as they celebrated Earth Day with a month of special activities.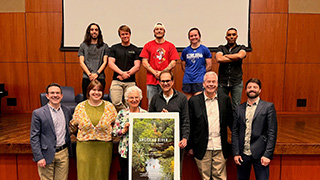 Environmental Studies students and faculty with director Scott Morris at the campus screening of his new documentary, American River.
This year's events started on April 12 with a special screening of American River, a new documentary that takes viewers on an 80-mile kayak trip down the Passaic River from its pristine headwaters to its toxic mouth in Newark Bay. On the journey, viewers learn about New Jersey's rich environmental history, the impact of industrialization and land-use decisions, and the efforts of activists, community groups, and others who have worked to reclaim the river as a vital natural and civic resource.
The screening concluded with a question-and-answer session with the documentary's director, Scott Morris, and one of its two intrepid kayakers, Carl Alderson. They shared some of the challenges they faced in filming and talked about the lessons they hope viewers will draw from the work. Morris explained how he wants those who see the film to gain a deeper appreciation for the forgotten environments that surround us, wherever we might be. Students were fortunate to have a chance to enjoy an advanced showing of this rich and engaging documentary, which Morris is looking to have picked up by PBS for national distribution.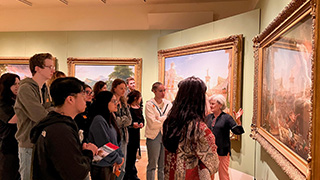 Environmental Studies students at the New York Historical Society.
On April 29, Environmental Studies students went with faculty to visit the New-York Historical Society's new exhibit, Nature, Crisis, Consequence. The exhibition uses works by artists, both past and present, to explore how views of nature have changed over time and to trace Americans' awareness of the toll that human activity has had on the environment. Students were guided through the exhibit by a museum docent.
Among the highlights of the exhibit was The Course of Empire (1833-1836), a stunning five-panel series by the renowned painter Thomas Cole, a leading figure in the Hudson River School of American art. Students also had a chance to get a close-up view of several original engravings by naturalist John James Audubon, whose Birds of America series is rightly regarded as a national treasure. More than just beautiful illustrations, his detailed paintings helped capture and preserve the natural history of the United States.
Back on campus, Environmental Studies major Clara Cusanelli promoted environmental awareness by curating a special book exhibit in Walsh Library. Her Earth Month Collection featured works pulled from the university's collections that highlight themes of environmental awareness and sustainability. The exhibit can be seen on the first floor, across from the display of faculty publications.
Many students from the Environmental Studies program are also active in the Ecology Club and Green New Deal Club, who joined together to host an Ecofest on Tuesday, April 23 in the event room of the newly-renovated University Center. Those who attended had the chance to plant flower and vegetable seeds, decorate reusable canvas tote bags, learn about sustainability, and meet others who share a commitment to making the world a greener place.
For more information about the Environmental Studies program, click here.
Categories: Arts and Culture