Filmmaker Yelena Demikovsky Presents Her New Documentary at Seton Hall
Thursday, January 26th, 2023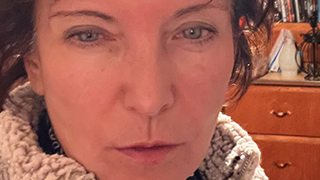 Yelena Demikovsky
TheRussian and East European Studies Program, the Department of History, and the Slavic Club are sponsoring a documentary film screening by an award-winning filmmaker Yelena Demikovsky.
Yelena Demikovsky will present her new, much talked about documentary film project "Black Russians: The Red Experiment." The film screening will be followed by Q&A with the film's creator.
The event will be held on Thursday, March 16, from 6:30-8 p.m., at the Global Learning Center, Fahy Hall 203C, with an option to attend virtually via a designated Microsoft Teams link:Click here to join virtually.
The film centers on the life trajectories of Black American sojourners in the Soviet Union during the first half of the 20th century. Inspired by the antiracist rhetoric of Soviet communists, these individuals fled American racism and Jim Crow segregation. But did they find the freedom they sought? Did they and their descendants harbor any regrets about that fateful decision to leave the United States? The film brings up the historical and personal complexities of these incredible life stories.
Yelena Demikovsky was born in the Soviet Union and came to the U.S. in the 1990s. She is the founder of Red Palette Pictures, an independent film production company in New York City. Yelena is a documentary and narrative filmmaker with an extensive theatre background in the United States and Russia. Her immigrant experience brings a unique, cosmopolitan perspective to her films. Her character-driven theatrical approach illustrates a keen understanding of the human spirit that illuminates her subjects and engages the audience. She has a passionate interest in telling stories and sees every inspiring person as a potential source of material. Demikovsky has directed award-winning documentaries such as "The Story of Fenist," "Happy To Be So" and "Vera: An Intimate Sketch." She has also directed and produced a number of narrative shorts. Yelena is interested in characters, who are passionate, idiosyncratic and who live their lives to the fullest. They are resilient and committed, they remain faithful to their passions and beliefs regardless of social pressures and historical circumstances.
Partial funding for this event has been provided by the College of Arts and Sciences thanks to the generous support of the President's Advisory Council members.
The event is free and open to the public. Slavic refreshments will be served.
Categories: Arts and Culture