Chemistry Graduate Student Receives Younger Chemists Committee Leadership Development Award
Tuesday, February 7th, 2023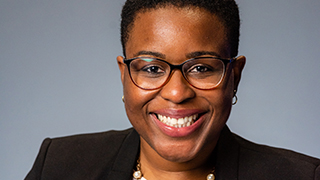 Doctoral chemistry student Mary Chiọma Okorie.
Mary Chiọma Okorie, a Ph.D. candidate in Chemistry at Seton Hall University, received a Younger Chemists Committee Leadership Development Award to attend the Younger Leaders Track workshop at the annual American Chemical Society (ACS) Leadership Institute. The event was held in Atlanta, GA January 20 - 22, 2023. This past year, she became the co-chair of the executive committee of the newly reformed North Jersey ACS Younger Chemists Committee (YCC).
In addition to YCC, Mary has also been a student member of the North Jersey ACS Organic Topical Group since 2020. She is passionate about increasing the number of underrepresented minority women in STEM through mentorship and plans to continue her work with ACS as well as other organizations to achieve this goal.
Her comments on what she enjoyed: "The Leadership Institute was an amazing experience! I learned so much about being a young leader within ACS and throughout my professional career. I was able to interact and network with other young leaders, as well as members of the ACS Board of Directors. Every member I came across were welcoming and took the time to hear about my future professional plans and gave great advice! Going into the weekend I didn't know what to expect, but I left there motivated to get more involved within ACS, and it opened my eyes to the different volunteer opportunities available. I encourage everyone to get involved in ACS because you will be exposed to many avenues to help you in your future career."
Categories: Education, Research, Science and Technology