Certificate in Digital Humanities and Data Studies
Wednesday, October 6th, 2021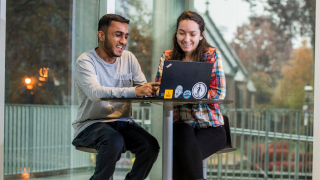 The Office of the Provost, with the support and recommendation of the Faculty Senate, has approved a new Certificate in Digital Humanities and Data Studies. This new Certificate aligns with Goal 1 of the University Strategic Plan, particularly the aspiration to "Integrate the learning of 21st-century skills that will help all students become adaptable, imaginative, resilient, ethical, and successful individuals through strategies that support faculty by building on the University's technological investment in innovative ways" (1.6.1).
The Certificate in Digital Humanities and Data Studies offers a credential for an area of study that considers digital tools in conjunction with, and for the advancement and development of, traditional humanities skills: critical thinking, synthesis, reading, writing, analysis, and creativity. It offers an engaging, meaningful way to articulate individual interests in the humanities and social sciences with practical digital toolsets, a combination of skills that is particularly appealing to employers and vital to lifelong learners. This program represents collaborative work by a community of faculty members (1) who have worked together to reimagine existing courses in light of how research is conducted, and information, data, and knowledge are accessed and (2) who are fostering creative approaches to complex and urgent social questions. The Certificate also sustains and advances earlier campus-wide initiatives, such as the establishment of the University core proficiencies.
The undergraduate certificate in Digital Humanities and Data Studies consists of four academic courses of 3 credits each, plus a 3-credit internship, for a total of 15 credits. Two of the academic courses must be from computing and data science and two must be from other disciplines. Two internship opportunities are available: DIS 3881: Liberal Arts Internship or an internship in the student's major area.
Upon successful completion of the certificate, students will:
Understand how advances in computer processing led to the development of the digital humanities and data studies in fields traditionally thought of as part of the arts and sciences.
Consider the major issues in the digital humanities and data studies today.
Understand the theoretical and structural principles underlying digital projects. These include information design and retrieval, user design, and information structures.
Acquire skills in digital tools in order to engage in such techniques as:
Website design and publishing
Data curation, digitization, and archiving
Text Analysis
Data Mining
Coding
Data Visualization
Modeling and Simulation
Geospatial Analysis and Mapping
Multi-media Storytelling
Information Design
Network Analysis
Interface Design
Text Mark-up
Electronic Research, Digital Publishing.
Experience working collaboratively on real-world projects.
Please see the certificate requirements.
Students interested in the Certificate in Digital Humanities and Data Studies should contact Mary Balkun.
Categories: Education