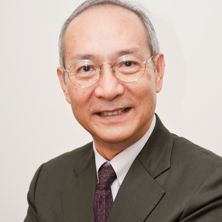 Professor Samuel H.H. Chan.
Professor Samuel H.H. Chan, Ph.D., will deliver the virtual keynote address, "Differential clinical impacts of oxidative stress and nitrosative stress: Therapeutic implications," at the 13th Annual Biological Sciences Symposium at 5:25 p.m. E.S.T. on Thursday, April 29, as part of the Matthew Petersheim Academic Expo 2021. The biosymposium, Observe, Explore, Achieve, is being hosted by the Department of Biological Sciences from 3:30-6:30 p.m. E.S.T. and includes opening remarks by Heping Zhou, Ph.D., Chair of the Department of Biological Sciences, at 3:30 p.m. ET followed by student presentations.
Professor Chan is National Chair Professor and Distinguished Chair, Professor and Director of the Institute for Translational Research in Biomedicine, Chang Gung Memorial Hospital, Kaohsiung, Taiwan, Republic of China. He will be sharing his knowledge live from the Institute, which can be accessed through a link provided in the Petersheim Schedule of Events. 
Since graduating cum laude from the Chinese University of Hong Kong in 1968 and receiving his Ph.D. in Physiology from Indiana University in 1971, Chan has dedicated his life to teaching others and researching biomedicine. After his postdoctoral training at the Mount Sinai School of Medicine in New York, he has held many academic positions at postsecondary institutions. These include the University of Hong Kong (1973-1977), Indiana University (1977-1982), National University of Singapore (1982-1985) and National Yang-Ming University in Taipei, Taiwan (1986-1998). 
Chan has served as the Chairman of the Medical Research and Development Board for the Chang Gung Medical Foundation since 2015. The Chang Gung Medical Foundation was founded in 1973 in the pursuit of providing the people of Taiwan with high quality healthcare which was severely lacking at the time. The focus of the Foundation was on medical research to provide modern technology as well as the latest medical knowledge to all medical staff. Founders Mr. Yung-Ching Wang and Mr. Yung-Tsai Wang established the first Chang Gung Memorial Hospital in 1976 in memory of their father, Mr. Chang-Gung Wang. Since then, the Foundation has expanded to include six other hospitals, two universities, and a nursing institute that still focuses on the mission of providing exceptional care to its patients. 
Along with this, Chan has also been the Inaugural Director and Distinguished Chair Professor of the ITRBM (Institute for Translational Research in Biomedicine) at Chang Gung Memorial Hospital since 2009. During this time, he has overseen the Foundation's mission of the integration of clinical professionals and medical researchers. By uniting the knowledge from both medical staff and clinical researchers, the hope is to improve the quality of care across all their medical centers in Taiwan. These centers care for an average of 8.2 million outpatients, 2.4 million inpatients, and 167,460 surgical patients per year.
Chan's current research focuses on cardiovascular regulatory functions, specifically translational research on brain stem death and neurogenic hypertension. By using a combination of the latest medical imaging technology, chemical analysis, and DNA phenotyping, Chan and his fellow researchers can visualize the affected neuronal circuits and identify the affected cellular functions which induce neurogenic hypertension and brain stem death. 
Chan's studies have led to over 270 publications and many prestigious accolades. These awards and titles include the Outstanding Researcher Award from the National Science Council in Taiwan (1986-1996), which he received over five consecutive two-year terms; the Shih-Chun Wang Outstanding Investigator Lectureship in Neuroscience Award from the Professor Shih-Chun Memorial Scholarship Fund in the United States (1995); and the title of Lifetime National Chair Professor of Neuroscience from the Ministry of Education in Taiwan (2000-), a position held by only four other professors in biomedicine. He was Editor-in-Chief of the Journal of Biomedical Science (1998-2004) and President of the Asia Pacific Federation of Pharmacologists (2011-16) and is currently Series Editor of the monograph series Translational Research in Biomedicine, published by Karger AB in Switzerland.
This year's biosymposium is open to all – students, faculty, staff, alumni, and the public interested in discussing the research projects conducted by those in the Department of Biological Sciences. Participants include both undergraduate and graduate students who will present on a wide range of topics related to biology. For any questions pertaining to the event, please contact organizer Edward Tall, Ph.D., Senior Faculty Associate of Biological Sciences at Edward.Tall@shu.edu or Sulie Lin Chang, Ph.D., President, Society on Neuroimmune Pharmacology; Director, Institute of Neuroimmune Pharmacology; and Professor, Biological Sciences at Sulie.Chang@shu.edu.
Categories: Nation and World , Research