A Philosophy of Excellence for these Graduates
Wednesday, May 20th, 2020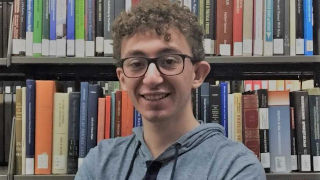 Class of 2020 grad Felipe Pereira will pursue his Ph.D. in Philosophy at the top-ranked University of Pittsburgh.
Many would agree that a liberal arts education enhances one's ability to think critically, communicate effectively and problem solve — among other crucial and widely applicable skills — providing a solid foundation for personal and professional fulfillment. Graduates of Seton Hall's philosophy program are well on their way to achieving just that.
Felipe Pereira is a member of Seton Hall's undergraduate Class of 2020, graduating as an honors student with a double major in philosophy and religion. Originally from Brazil, Pereira will now journey from South Orange, New Jersey, to Pittsburgh, Pennsylvania, to pursue his Ph.D. in Philosophy at the University of Pittsburgh. The program is the fourth ranked of its kind in the United States and the fifth ranked program in the world, above Yale, Columbia, Harvard and Stanford, according to The Philosophical Gourmet Report. "Never in my wildest dreams did I imagine being admitted into a program like Pittsburgh's. I am so proud and so very thankful for everyone who's supported me," says Pereira.
Pereira will enter the program with some impressive achievements under his belt. As a sophomore, he was selected to present his research paper "Libertarianism and a Counterfactual Account of Freedom" at the Undergraduate Philosophy Conference at Southern Illinois University. "Presenting your papers to students and professors who are engaged in the field is an outstanding experience," says Pereira, whose paper focused on the concept of free will. He then went on to present a second paper, "How To (And How Not To) Argue Against Temporal Nihilism," which argued that life can be meaningful even if it is finite, at the 2020 Central Meeting of the American Philosophical Association in Chicago. "The APA is the main professional organization of philosophers in the United States, and my paper was one of 476 submissions, out of which only 28 percent were accepted. It was an incredible honor to be selected to present my work there," says Pereira.
He has also published not one, but two original articles in philosophy journals during his time as a Seton Hall undergraduate: "The (Un)desirability of Immortality" in Philosophy Compass and "Non-Repeatable Hedonism is False" in Ergo: An Open Access Journal of Philosophy, both of which he co-authored with Assistant Professor Travis Timmerman, Ph.D. "It's already quite challenging for professional philosophers to publish original scholarship in top-tier journals, and it's practically unheard of for an undergraduate student to be advanced enough to contribute to the literature. The fact that Felipe was able to do this not once, but twice, at Seton Hall is a testament to his extraordinary philosophical abilities," says Timmerman.
Additionally, Pereira has written a solo-authored work of popular philosophy titled "Is Immortality Desirable?" that was published in 1,000 Word Philosophy.
"Philosophy fascinates me because I'm often not sure what to believe about what is good, what is bad, what we owe each other, what to hope for, and so on. And philosophy is all about critically assessing these sorts of beliefs. It's an exercise in humility, curiosity, respectful disagreement, critical thinking, and creative problem solving," says Pereira.
Ultimately, Pereira has his sights set on becoming a professional philosopher and teaching at a university, like the professors he's come to know and admire. With experience like his, one might say he's off to a promising start. "He's one of the most exceptional students I've ever seen," says Associate Professor Abe Zakhem, Ph.D.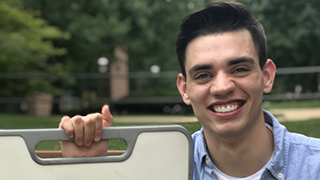 Recent grad Joseph Montesano will attend Harvard for dental school in August, having also gained acceptance into Columbia and the University of Pennsylvania.
While graduates like Pereira have career goals that focus primarily on philosophy, many choose to apply what they learned in the program to other fields. Joseph Montesano, who completed his Seton Hall education in the Fall of 2019, will be attending Harvard for dental school in August, having also gained acceptance into Columbia and the University of Pennsylvania. An honors student during his time at Seton Hall, Montesano double majored in philosophy and biology. As a senior, he placed second in a competitive nationwide undergraduate essay contest sponsored by The Center for Bioethics at New York University. His paper, which explored the question of whether one can have a duty to die, was published in the Spring 2019 edition of the peer reviewed undergraduate journal Medical Dialogue Review (published by New York University). According to Timmerman, "Joseph made considerable strides in advancing the debate on euthanasia in his paper, which is no easy feat."
Although philosophy may seem at first like an odd fit for an up-and-coming dentist, Montesano disagrees. "I strongly advocate for everyone in the sciences to take at least a few philosophy classes at the collegiate level. While it sounds incredibly cliché, philosophy really does change the way you think about the world," says Montesano.
"My interest in ethics, which stems from my philosophy courses, has helped shape how I view and understand morality and judging difficult situations — moral and otherwise," he continues. "This has become important in how I view, interact with, and ultimately treat patients in the chair. It helps paint the picture that a patient isn't a disease, condition, case, or number alone; they have a history, a story, and values, all of which culminate into who they are. Philosophy helps you not only see that, but understand it in a much more real way."
Recent grad Christina Stanhope is pursuing a fully funded Ph.D. in Pharmacology and Cancer Biology at Duke University School of Medicine.
Still another philosophy graduate en route to a career in medicine is Christina Stanhope, who double majored in philosophy and psychology during her time at Seton Hall and, like Montesano and Pereira, was also an honors student. Having spent time working as a research technician in the Kash Lab at the University of North Carolina at Chapel Hill, she is now pursuing a fully funded Ph.D. in Pharmacology and Cancer Biology at Duke University School of Medicine. Through her research, Stanhope hopes to study chronic pain and addiction with the goal of finding pharmacological alternatives or improvements to present day opioids. "My courses in philosophy taught me to reason and question constructively — skills that are invaluable to me as a researcher," says Stanhope.
About the Department of Philosophy
The Department of Philosophy offers a program leading to the degree of Bachelor of Arts. The program provides the opportunity for examining major philosophers and areas from ancient times to the present. Students are able to learn about the field and receive strong training in analytical and writing skills. The flexible structure of the program also enables each student to focus on his or her particular area of interest. In addition to courses available in the History of Ancient and Modern Philosophy, there are courses in Ethics, Logic, Philosophy of Religion, Political Philosophy, Theory of Knowledge, Contemporary Philosophy, and Metaphysics. Students have the option of taking the Philosophy major, the minor in Ethics and Applied Ethics, or the Pre-Law Emphasis for those interested in law school.
Because of its focus on critical thought, the program provides excellent preparation for various types of professions. Students have gone on to further study or careers in such areas as philosophy, education, law, business, medicine, and college administration. To this end, the Philosophy major can be taken alone or combined with a second major. In addition, students who qualify may join the International Philosophy Honors Society, Phi Sigma Tau.
Categories: Arts and Culture