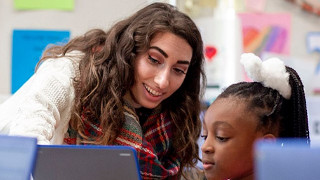 Seton Hall has launched a very special Educator Appreciation Week, which will begin on June 15 and end on June 19. The purpose behind this initiative is to celebrate and recognize teachers, professors, mentors, counselors, parents, and others in the alumni community for the inspiring work that they do every single day. This week will be to acknowledge and thank educators who have been working hard in this time to not only make the transition to remote learning a smoother process, but also to keep students engaged and on a consistent path to reaching their full potential.
Educators go far beyond the call of duty every day both for their students and for their communities. Their dedication does not go unnoticed. The appreciation week will include students of all ages and will display their gratitude for their educators in a plethora of ways. Here is a snapshot of the week ahead and some of the digital engagement activities to take place as the University celebrates virtually:
Starting on Monday, June 15, the week will be filled with appreciation posts and stories from Seton Hall alumni educators. On Tuesday, alumni are encouraged to recognize a current or former educator that has made an impact in their lives. Wednesday will be a day dedicated to alumni parents who have been balancing work and helping their children to continue to succeed while learning virtually. Towards the end of the week, gear up for some throwback Thursday favorite memories, and Forum Friday discussions where educators share their experiences.
Looking for ways to get involved? Utilize the educator week toolkit to access additional resources and content to download and share out!
Educators have had to improvise and adjust quickly in these tough times; their immense work and impact is felt and seen more than ever as they continue to work with students from a distance, and at times under one roof where the kitchen table becomes a craft station or a study area. This week seeks to acknowledge their continued efforts and to give them the appreciation that they deserve. They play a very pivotal role in the lives of students, ensuring their long-term success, and instilling in them a lifelong love of learning, discovery, and leadership.
Join Seton Hall in this unified effort of thanking its community of educators and educational heroes. One way to show gratitude is to consider making a gift to student scholarships in honor of an educator to ensure that current and future Pirates can continue to receive an extraordinary education. To discover more about Educator Appreciation Week, visit the webpage here. To recognize an educational hero, or to share a story as an educator fill out this form. Be sure to follow @setonhallalumni on Facebook, Instagram, and Twitter to tune into all the ways Seton Hall will be celebrating its educators.