The Hajek Family: A Rising Legacy
Tuesday, August 16th, 2022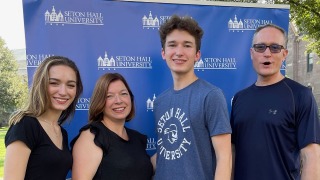 The Hajek Family from Move-in Day 2021.
Hailing from West Milford Township, the Hajek family brings a lot of excitement and spirit onto campus as a Seton Hall legacy family. A rising sophomore within the joint Psychology and M.D. program, Benjamin Hajek '25 always remembered seeing the iconic Pirate magnet in his dad's office and would ask what it was. Now, Benjamin has one of his own, and carries his father's legacy on for another generation.
The Hajek family's Seton Hall story begins with Ted Hajek '93 who graduated from the Stillman School of Business with a bachelor's degree in accounting. After spending five years working for one of the Big Four accounting organizations, KPMG, he is currently a financial reporting manager at BMW Financial Services. As Ted reflected on what solidified his decision when choosing The Hall, he noted, "It was that close-knit family feel. As a commuter, I was able to balance having a job, saving money, and helping my family with some of the cost as well. Once I was here, I knew it was the right place for me."
Reminiscent of his time on campus, Ted shared memories of the various organizations he was a part of including the Russian Club, now known as the Slavic Club, which he founded with his professor and a few others. "My major was accounting, but I was the second student to ever receive the certificate in Russian and East European Studies," he said. Ted described that time as most vivid in his mind from his years at Seton Hall.
Ted's wife, Eva, chimed in to share how Ted's background in Russian became a part of their kismet connection. Eva is first-generation Hungarian and has family members who are Russian and don't speak very much English. Upon meeting Ted and realizing that he could communicate with them very well in Russian, Eva's family encouraged her to "hold onto him." Now as a Seton Hall mom, Eva shared that she is very excited, and enjoyed everything she's seen and learned about the University.
Eager about his college journey, Benjamin agreed, explaining, "Seton Hall has been in my top choices since I started my college search. I've always known about it because of my dad's legacy." He and his parents were ecstatic to note that Benjamin is in the honors program, as well as the Buccino Leadership program.
Touching more on how Seton Hall was the perfect fit for him, Benjamin shares, "When I really went to research and look at what I wanted in a school it was the community, and the feeling of being inclusive that really helped me to make my decision. Also, the level of academics mixed with involvement and service; there's a balance of everything. [Seton Hall] had programs that I was looking for to help me prepare for my career. I was looking at pediatric orthopedics for a while… I just really feel connected with medicine and science."
While Benjamin focuses on making the most of his academic and student experience, his family continues to support him every step of the way. His sister encouraged him saying, "Whether it is with school or social life, don't be afraid to ask for help." His mom said, "I'm not worried for him coming here. I know he's got a great community here to support him… He's going to have a great foundation for pursuing his dreams." Looking forward to Benjamin upholding the Hajek family name on campus, Ted told his son, "Don't be afraid to try."
The Hajek family expressed their enthusiasm for becoming more involved. While they are already avid Pirate Blue fans, Ted noted that "a lot of years have gone by since I've been here. Now, I have that opportunity to come back as a volunteer perhaps. I'm looking forward to reconnecting." The family jumpstarted their legacy family engagement by coming home to The Hall during Seton Hall Weekend and attending the Buccino Leadership Institute's 'Mix and Mingle' Virtual Event last October. "I just love feeling welcomed and included," Eva said. "There's a sense of openness and that sense of family that you're a part of."
Categories: Alumni