Hope and Al Frungillo and Their Family Give $1 Million to Support the Construction of a New Seton Hall University Practice Facility
Thursday, March 16th, 2023
A Show of Faith in the Future of Seton Hall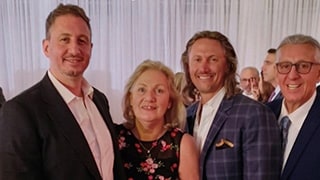 From left: Anthony, Hope, Michael and Al Frungillo, benefactors to Seton Hall University.
Al Frungillo, chair of premier food services company Gourmet Dining, LLC, announced a family donation of $1 million to help fund the future construction of an athletics practice facility at Seton Hall University.
The Frungillo family gift will help Seton Hall complete the next step in its 10-year master plan to enhance facilities for all students and athletics programs. The expansion of the recreation center will include a new practice gym for men's basketball and enhanced resources for women's basketball and other athletics programs, as well as the entire Seton Hall community.
"The Frungillo family has been an integral part of the Seton Hall community for decades," noted University President Joseph E. Nyre, Ph.D. "Al's partnership, coupled with the family's generous philanthropic support, prove they believe in the value of quality Catholic higher education and that Seton Hall is uniquely poised to deliver it."
Al Frungillo noted that their motivation for the gift was their faith in the vision of President Nyre and EVP and Chief of Staff Pat Lyons: "We see leadership moving the University forward and we want to contribute to the effort," Al said. "I've had the pleasure of serving the Seton Hall community for 36 years, and the excitement that Dr. Nyre has brought to campus has really become a game-changer. My wife, Hope, and I, along with our entire family, are honored to share in this contribution to the University's continued success."
"We were given the opportunity to take over the food service program at Seton Hall in 1987 and it became a lifelong business for our family," added Hope. "We are truly grateful to have been a part of the Seton Hall community for over 30 years."
Al and Hope's son Michael was ten years old back in 1987, and his brother Anthony was seven. "We grew up on campus," said Michael. "We've seen it transform."
"Seton Hall shaped us in every way," added Anthony. "I have many fond memories from my days as a student. In fact, I met my wife Jennifer there. For that reason, in particular, it holds a special place in my heart."
The Frungillos acknowledge the many benefits of the University's superlative men's basketball team. "My sons have been going to Seton Hall basketball games since we played West Point in Walsh Gym," Al said, referring to the original home court on the South Orange campus.
"It was the year we went to the NCAA finals: 1989," Michael added. "My father and mother took us to Final Four. That is one of the greatest experiences of my childhood."
Holding no fewer than 18 season tickets, arguably the Frungillos are the Pirates' biggest family fan base. "That's why we're such big supporters of basketball: three decades later, it still brings our family together. We want to keep supporting Shaheen," Al said, referring to Shaheen Holloway, the new head coach of men's basketball. "If you're trying to build the school, build the name and build a reputation, it gives us so much exposure in such a positive way. It's our window to the world."
Director of Athletics and Recreation Bryan Felt acknowledged that the family's support extends well beyond men's basketball: "The practice facility project is the latest step in a master plan to improve facilities for all athletics programs and the general Seton Hall community. The Frungillos appreciate this holistic approach to providing for all student-athletes. We are grateful for their loyalty and generosity."
The Frungillo family's hope for the future of Seton Hall? "Keep pushing forward," said Anthony. "We're in the top third of colleges in country. Keep the teams pushing forward. Women's basketball has been doing phenomenally, as well as soccer, golf, volleyball, baseball—all the sports. Keep men's basketball in the top 25 or top 30 where we're always in a position to make the tournament. Keep developing our student-athletes both on the court and in the classroom."
Basketball isn't the only thing that binds the Frungillo family together; they are also united in their collective spirit of generosity: "From the bottom of my heart we are so honored and blessed to be able to do these things," said Michael. "It's how our parents raised us. For me and my brother, we're trying to keep that same 'giving mentality' we've seen in our father and mother. That's probably one of the big reasons why Seton Hall and our family connect so well: we have similar values."
The University invites alumni, parents and friends interested in supporting or learning more about Seton Hall's strategic priorities to contact [email protected], (973) 378-9800.
Categories: None