What Great Minds Can Do: Zach Blackwood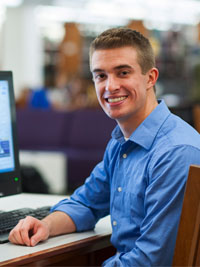 "Because so many Seton Hall alumni work at Prudential, Seton Hall has become a top recruiting school for them. So I not only had two internships there, I also got a job after graduation. I owe it all to Seton Hall's reputation and the alumni who paved the way for my success."
"Seton Hall has been more than I ever hoped for," Zach Blackwood says when reflecting on his time at the University. "I have had so many amazing opportunities. The faculty are outstanding; they help me learn about business in a real-world context. One of my professors was the chief legal counsel for Merrill Lynch during the financial crisis. I was in awe learning from him — having access to his experience and knowledge. I couldn't have learned from a better person. Many of my professors have worked at Fortune 500 companies, which really expanded my learning. Couple this with the fact that because our classes are small, you really get to develop a relationship with your professors and it makes Seton Hall unique; this combination is something you would not find at a bigger school."
Zach did a lot of learning outside the classroom, too. He completed three internships while studying at Seton Hall. "My internship at the largest commercial bank in New Jersey was phenomenal; I got to work closely with vice presidents and corporate executives and was given a series of projects to work on. I even got to present my findings and recommendations to the CEO. My internships helped solidify my career interest and helped me build my skills and my confidence."
Zach also benefited from having a corporate mentor, many networking opportunities with alumni and the chance to hear from the many prominent business leaders who come to speak on campus. "One of the great things about Seton Hall is how close it is to Manhattan. This means we have access to industry experts from Wall Street and top corporations, and it gives us a real advantage in terms of networking and internship opportunities. Plus, Seton Hall alumni are well respected and many have executive-level positions on Wall Street. It gives us an edge — I actually got one of my internships from meeting an alumnus at a campus event."
Zach enriched his Seton Hall experience by studying abroad in Portugal, and by getting actively involved with the University's Division of Volunteer Efforts, working in soup kitchens and at community gardens. He also explored his interest in music as a member of the jazz and concert bands.
Zach was raised in a Catholic family, and he chose Seton Hall not only for its academic excellence but also for its values. "Seton Hall helped me grow in my faith. I loved that I met so many diverse people from different backgrounds and religions and that this community makes everyone feel welcomed and included. Seton Hall gave me confidence and purpose, and it helped instill in me the desire to live a good life every day. Seton Hall has given me so many gifts, and I feel now it is my duty to give back."
Seton Hall Career Highlights
Member, Gerald P. Buccino '63 Center for Leadership Development
Internship at Investors Bank
Study abroad program, Portugal
Member, Division of Volunteer Efforts (DOVE)
Member, Seton Hall jazz and concert bands