What Great Minds Can Do: Luis Sosa
"I love that at Seton Hall I am encouraged to be independent, but I am also protected, and my growth is fostered. I am given both opportunity and support. That's why, even though I came here as a transfer student, I was still able to secure three internships, study and volunteer abroad and get involved in student life."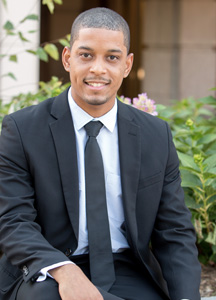 Luis Rafael Sosa Santiago explored his passion for law and international relations at Seton Hall. He interned with one of the top immigration lawyers in the country as well as a New Jersey Superior Court judge. "Working closely with the judge gave me extensive insight into the judicial system. It also allowed me to broaden my professional network, which is critical because I plan to go to law school."
By participating in the prestigious Summer Institute for Pre-Legal Studies at Seton Hall's School of Law, Luis took courses in contract and property law as an undergraduate. He also prepared briefs and oral arguments, which he presented to federal, municipal and state superior court judges. A semester spent studying abroad in Buenos Aires, Argentina, a service trip to El Salvador and an internship with one of the largest companies in Medellin, Colombia, gave him robust international experience, too. "With the support of faculty and the School of Diplomacy, I was able to get an internship in Colombia; they also helped me get funding to pay for the trip."
Seton Hall's winning combination of caring professors, professional networking and close proximity to New York City created amazing experiences for Luis. "We have professors who conduct research on global issues and serve as government advisers. Because we're close to the United Nations, it's easy to have speakers come to campus and for students to go there. I've seen Nobel Prize winners, ambassadors and heads of international organizations. Seton Hall has certainly broadened my world view."
Luis also got involved in extracurricular activities: playing on a volleyball team, joining the French Club, writing for The Diplomatic Envoy and singing with the a cappella group, Gentlemen of the Hall. "Seton Hall is so welcoming and diverse. I love how supported and nurtured I was yet pushed to be my own person and develop as a critical thinker. One of the things I love about this community is how many people there are from across the United States — and the world. This range of people enriches and diversifies the campus with different ideas, cultures and activities. I love that Seton Hall makes me feel welcome and provides me with comfort while allowing me to share myself and my culture with the community."
Seton Hall Career Highlights
International internship in Medellin, Colombia, with scholarship funding for expenses
Internships with a N.J. Superior Court judge and top immigration lawyer
DOVE Service trip to El Salvador
Study abroad in Buenos Aires
Seton Hall Law School's Summer Institute for Pre-Legal Studies
Seton Hall's United Nations Intensive Summer Study Program
Participant, Educational Opportunity Program
Writer, The Diplomatic Envoy
Gentleman of the Hall, a cappella group
Intramural men's volleyball
French Club
Adelante Latino Student Organization
Unanue Latino Institute scholarship recipient