What Great Minds Can Do: Kyle Packnick
"After my internship at SportsNet, I was offered a full-time job after graduation. I know this wouldn't have happened without my mentors and without the support I got from The Career Center."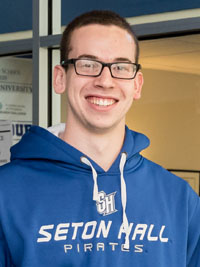 "Unity" and "opportunity" are the first words that come to Kyle Packnick's mind when he thinks about Seton Hall University. "This is such a supportive community. I don't think you will find this level of attention and service anywhere else. Everyone wants to help me to be my best and succeed." With the help of The Career Center, Kyle landed an internship during his freshman year with a minor league baseball team. "I got to see inside the sports industry and build my resume right away. The Career Center is incredibly good at recognizing your individual interests and talents. They really want what is best for you." Another of Kyle's six internships led to a full-time job offer. "I got an internship at SportsNet because of Seton Hall connections and the introductions my mentors made. I worked for the chief financial officer and vice president of finance on compliance and payroll issues. The VP was so impressed with my work he offered me a job after graduation."
Seton Hall's faith community attracted Kyle to the University. "I was able to grow in my faith and be involved in service projects." By volunteering for an Appalachian Service Project and other local community projects, Kyle developed his servant leadership skills. A trip to El Salvador sponsored by the Division of Volunteer Efforts changed his worldview. "The trip helped me better understand poverty and important global issues. I got as much as I gave, and the experience changed me forever."
Kyle also expanded his horizons on a study abroad trip. "Learning about the business culture and organizational structure in Portugal and how it differs from the U.S. was eye-opening and gave me real insight into international business."
Kyle had the opportunity to develop leadership skills, too, as one of just 30 students chosen nationwide to attend a prestigious Cadet Leadership Program at West Point. "This program for future leaders charged us with creating strategies to deal with global issues. We had to present our findings, and this led to a published article."
Kyle also found time for extracurricular activities at Seton Hall. He joined the Marketing and Sport Management clubs, worked for the Seton Hall Sports Poll — which is frequently cited in the media— played intramural sports and was a member of The Zeta Alpha Chapter of Alpha Sigma Phi. "Initially when I got to Seton Hall, I had a negative impression of fraternities; but it was not at all what I expected. It was a group of great people who would become my lifelong brothers and my best friends. For us, it was all about learning to be better men and recognizing that there are things bigger than yourself. It humbled me and deepened my desire to be a good person and help others."
Seton Hall Career Highlights
Six internships
D.O.V.E. trip to an orphanage in El Salvador
Appalachian Service Project
Marketing Club
Pollster, Seton Hall Sports Poll
Study Abroad, Portugal
Sport Management Student Association
The Zeta Alpha Chapter of Alpha Sigma Phi
McDonald Cadet Leadership Conference at West Point