What Great Minds Can Do: Julia Lanuez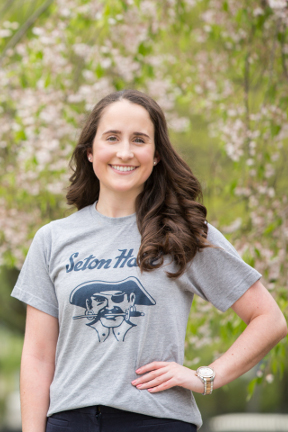 After graduating from Seton Hall, Julia Lanuez felt confident and fully equipped to start her job at an adolescent program that integrates therapeutic, psychiatric and special education services. Julia completed eight internships in schools, hospitals and outpatient settings with patients ranging in age from newborn to 101 years old. "I've truly seen the whole spectrum of life. I've become such a well-rounded clinician. I feel ready for whatever job I take on."
Julia realized the true significance of her robust training and early entry into fieldwork—which started during her sophomore year—when she began working alongside peers outside of Seton Hall. "In one of my internships there were students from another university. At that point I had already done hundreds of lesson plans and taught many different types of learners. For my peer from a different university, it was one of the first times she was in a classroom; she was struggling a bit more."
Julia also gained a competitive advantage from the support and expertise of Seton Hall faculty members who were deeply invested in her success. "Professors continually went above and beyond to help." Through her meaningful connections with faculty, Julia was selected for a highly relevant research opportunity creating new methods of therapy. She later presented her findings at national conferences in New York and Boston. Julia also found time to study-abroad in Alicante, Spain, and gained a deeper understanding of the Spanish language and culture.
Julia was a four-year member of the dance team and was team captain for the last two. "My dance-team experience was the most incredible part of my time here—being one of the leading forces in spreading school spirit and being a part of a close-knit team that truly became my family." Julia credits Seton Hall with helping her become the person she is today. "I've been in a constant state of growing and becoming myself. It has been the most incredible experience I could have asked for."
Seton Hall Career Highlights:
Eight Internships; in schools, hospitals and outpatient facilities
Research project; creating new speech-language pathology therapies
Study Abroad; Alicante, Spain
Team Captain; Seton Hall Dance Team
Volunteer; Division of Volunteer Efforts (DOVE)