What Great Minds Can Do: Joshua Steier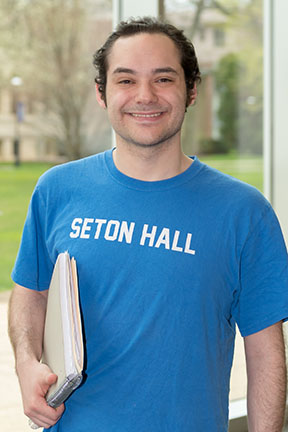 Joshua Steier took advantage of every opportunity he could at Seton Hall University, working on research projects with seven faculty members, building a robot named Joanna, attending four conferences — even presenting his work at MIT and the International Conference on Plasma Science. "What's great about Seton Hall is the ability to do research under a professor's guidance. Seton Hall truly invests in its undergraduates. When I presented my research at MIT, I went with two other Seton Hall undergrads. We were the only ones at the conference. Seton Hall gives undergraduates opportunities other schools don't."
Joshua also honed his writing skills by publishing seven journal articles and writing poetry for the University's literary magazine as well as articles for the business publication The Stillman Exchange. He served as digital editor of the student newspaper, The Setonian, and as vice president of the Data Science Club and president of the German Club. "I was able to do everything I wanted to at Seton Hall and I have an excellent resume to show for it."
With the Career Center's help, Joshua landed a yearlong internship at the U.S. Department of Justice, analyzing data and working on cybercrimes. This led to a job offer from the DOJ after graduation. But Joshua is weighing his options — he also has offers from graduate schools and for data analytics positions at Wall Street firms. "I was very fortunate to get my internship with the DOJ. It helped me develop professionally and led to many opportunities for my future."
As the recipient of a grant from the Association of Independent Colleges and Universities in New Jersey, Joshua worked with Professor Manfred Minimair and with local law enforcement to create an algorithm to detect patterns with the aim of preventing crime. Their work was published and led to other great opportunities. "My research project with local law enforcement helped me stand out to the DOJ and is one of the reasons I was able to get my internship there."
"I owe so much Seton Hall, which helped me not only to understand my field but also to grow as a researcher and a scholar. At Seton Hall, I developed my passion and a can-do attitude. I am a different person now, more mature, focused and confident."
Seton Hall Career Highlights
Cybersecurity Intern, Department of Justice — which led to job offer
Author, seven journal articles
Researcher, along with seven faculty members
Attendee, four conferences; Presenter, MIT research conference
Digital editor, The Setonian
Writer, The Stillman Exchange
Contributor, Literary Arts magazine
Vice President, Data Science Club
President, German Club