What Great Minds Can Do: Dwayne Greene
"Proximity to New York City is one of Seton Hall's greatest assets. You can just walk down South Orange Ave., hop on the train and in 30 minutes you're in New York. It's so easy. I love the performers in Central Park, the food, the museums, the shows, in addition to all the internship and job opportunities. There's so much access to experts and resources; all the major financial companies have offices in New York. Every year Seton Hall takes a group of business students to the stock market. I got to ring the opening bell. It's a memory I'll have forever."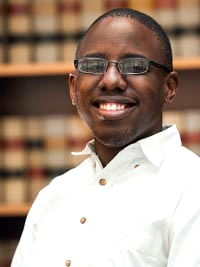 At Seton Hall Dwayne was able to combine his interests: corporate law, finance and accounting. During a meeting with a Seton Hall mentor, Dwayne mentioned his interest in law, and the alumnus helped him obtain an internship at a leading local law firm, Spector, Foerst and Associates. The internship turned into a two-year job opportunity. "This was great exposure for me to get hands-on experience working with actual cases, learning about the discovery process, working with the courts and in judges' chambers and learning how to draft subpoenas," Dwayne says. "It helped me expand my network, my skills and my knowledge which I know will help prepare me for my career."
Dwayne was introduced to a second internship through another alumnus who works at PricewaterhouseCoopers (PwC). Dwayne interned at PwC for two summers and says "I was able to hone my presentation and communication skills as I worked with PwC offices across the country on project planning." A number of large accounting firms and other leading companies only recruit employees from a select group of universities. Seton Hall is a recruitment site for many of these companies because the University has such a strong reputation and many well-placed alumni working in various industries. "The alumni network has been so helpful," Dwayne says. "Alumni are always reaching out to us, letting us know about job or internship opportunities and saving jobs for Seton Hall students. Plus they are very helpful at giving guidance and mentoring us. They are there if you have questions. This is because the nature of Seton Hall is so friendly, and there is a culture of giving back and of servant leadership."
Dwayne continued to expand his knowledge of finance during a one-year mentoring relationship with a vice president of Siemens USA who managed the organization's pension fund. "Working with the VP from Siemens helped me understand not only the importance of attention to detail, but also the need for goal setting and big picture planning. These concepts relate so well to what Seton Hall is teaching us. They are grooming us to be leaders and to see the big picture so we can succeed and reach our goals."
Seton Hall Career Highlights
Two summer internships at PricewaterhouseCoopers
Mentored for one year by a vice president at Siemens
Study Abroad: Doing Business in Spain
Internship at the law firm Spector, Foerst and Associates
Business Leadership Program
Service on Saturdays, serving underprivileged students in the local community
Peer tutor
Member, Business Honors Society