What Great Minds Can Do: Crystal Dickinson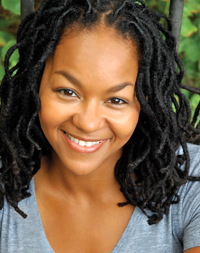 "After graduate school, I was in an off-Broadway play called "Clybourne Park" and just this past spring, it went to Broadway. When I got the Broadway job, Seton Hall professor Deirdre Yates, was the second person I called after my family. She was so excited for me. She had always been a support to me and I was glad to share my success with her."
Since graduating from Seton Hall, actress Crystal Dickinson '98 has performed at Lincoln Center and The Atlantic Theater Company and has appeared on television in Tyler Perry's "House of Payne." She also landed a plum role in the Pulitzer-Prize, Tony-award winning play "Clybourne Park."

For her performance, Dickinson was awarded the prestigious Theater World Award, given to outstanding newcomers to the Broadway stage, joining previous winners such as Marlon Brando, Julie Andrews and Dustin Hoffman. In her acceptance speech, Dickinson thanked her Seton Hall theater professor: "While I was [an undergraduate] I met a wonderful professor named Deirdre Yates, who inspired me to get my M.F.A. The rest is history."

In a testament to the kind of connection students make with their professors at Seton Hall, Yates took a personal interest in Dickinson. She traveled to the dorms to encourage the young actress to try out for one role; Dickinson subsequently performed a major part in every play Yates directed while she was an undergraduate at Seton Hall. The professor also used her own time to prepare Dickinson to audition for graduate programs. "She even drove me to the audition in New York and waited outside the door for me," Dickinson says.

"What I learned from Deirdre when I was at Seton Hall was that I had something inside that was special, that I could share," Dickinson says. "If nothing else, when I teach today, my goal is to help students find that special thing about themselves. If I do, I think I have done a good thing because someone doing that for me changed my life."
Seton Hall Career Highlights
Theater World Award for "Outstanding Broadway Debut"
Recurring role on Tyler Perry's "House of Payne"
"Clybourne Park" (Broadway, Mark Taper, Playwrights Horizons)
"Broke-ology" (Lincoln Center)
"Bottom of the World" (Atlantic Theater Company)