What Great Minds Can Do: Connor Reynolds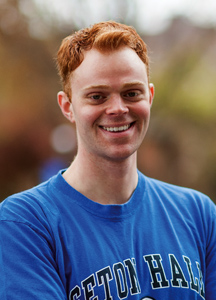 "I've never felt more positive about my future. I am confident that coming to Seton Hall was the best decision I ever made."
Connor Reynolds wanted a complete college experience and he knew Seton Hall's proximity to New York meant access to countless internships and plenty of chances to hone his professional skills. "With Seton Hall being so close to New York, you have so many options you can't get anywhere else."
At Seton Hall, Connor took advantage of big-time internship opportunities and chose to intern with the U.S. Securities and Exchange Commission. The experience nudged him out of his comfort zone by pushing him to make presentations and interact with corporate leaders in a professional manner. Connor also sharpened his business skills by performing stock market analysis and legal research. "It was a privilege to have this internship opportunity. I got the position because of Seton Hall's outstanding reputation and location."
Another highlight of Connor's experience was meeting the CEO of the Campbell Soup Company. "I met Denise Morrison during an on-campus speaking event and I still remember the professional advice she gave me."
Making connections are an important part of the Seton Hall experience and Connor credits the alumni mentor program for helping him connect with potential employers. "My alumni mentor was the vice-president of planning and analysis at Prudential. There is so much support from alumni you feel they want you to succeed." Connor further explained that by networking with alumni as an undergraduate, you advance along a promising path to an internship or job.
On campus, the small classes and one-on-one attention made it the perfect fit for Connor. "At Seton Hall I found my niche. My professors challenged me to be the best that I could be." Connor's experiences in the classroom also laid the groundwork for finding employment after graduation. "As a finance major, I gained real-world experience by doing research in the business school's mock trading room. I analyzed the latest stock quotes and learned to speak the language, just as any Wall Street financier might."
Connor, a Torrington, Conn., native said his internship and classroom experiences made a world of difference. "I've never felt more positive about my future. I am confident that coming to Seton Hall was the best decision I ever made."
Seton Hall Career Highlights

U.S. Securities and Exchange Commission internship
Internship at consulting firm monitoring the Dodd-Frank Act
Seton Hall Leadership conference presenter
University Honors program member
Sigma Pi fraternity member
Dean's Advisory Council member