What Great Minds Can Do: Chloe Magnuson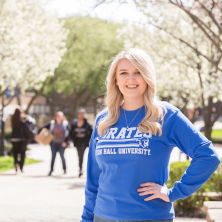 As Chloe Magnuson started her senior year at Seton Hall, she reflected on what the University had done for her during her first three years. "I don't think I would be where I am today without the help I got from Seton Hall," she said. "The Career Center has been amazing, helping me land three of my four internships. I have been given so many amazing opportunities that have helped me build my confidence."
Chloe arrived at Seton Hall feeling a little shy and uncertain about what direction she should take. Initially a broadcasting major, she became actively involved with Pirate TV. That meant she worked in the TV studio, producing shows, working behind the camera and doing sound.
Yet it was after Chloe's first internship that she gained clarity and focus about her true passion.
"I knew I liked communications, public relations, media and politics, but I didn't really know how to piece all of that together. After my internship with the Jim Johnson for Governor campaign, it all became clear. I decided that I love political science, but through the lens of communications and the media. I knew then that I wanted to work on political campaigns, so I changed my major to political science with a minor in broadcasting."
Chloe would ultimately complete four internships, including one with U.S. Sen. Kirsten Gillibrand of New York, where she was selected to write a brief for the senator's press packet. "This was a phenomenal experience. I really enjoyed working there."
Chloe also attended a leadership conference in Philadelphia where she learned communication skills hands-on. "I learned how to be a great leader and was able to take the skills I learned there and then apply them to my internships and classes."
Though Chloe has lived all over the world, she found a real home here. She wanted to be close to New York City but not be engulfed by it, and she wanted a small community feel. She found that at Seton Hall, a place where she could fit in and excel.
Most importantly, she found caring and supportive professors. "In my experience, something unique about Seton Hall has been my one-on-one relationships with faculty. I have been able to have amazing relationships with all of my professors. I don't think I could get that anywhere else—because of the small class sizes and discussion-based classes. My professors really want to hear what I have to say. This has helped me so much."
Seton Hall Career Highlights:
Four internships
Pirate TV; Member
Leadership Conference; Participant
Delta Phi Epsilon Sorority; Member
St. Johns Soup Kitchen; Volunteer