What Great Minds Can Do: Cara Richardson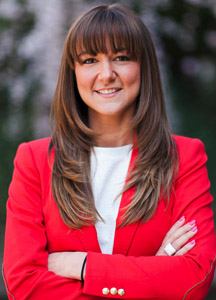 "I transferred to Seton Hall from Syracuse because I wanted to be closer to New York City. Even though I was accepted to NYU, I chose Seton Hall because it was a caring environment and it felt like home. It was a great decision. I was a youth ambassador at the U.N., studied abroad in Italy and interned at the World Food Program. The quality of the faculty and the tremendous opportunities I've had at Seton Hall have been amazing."
Cara Richardson knew she made one the best decisions of her life when she decided to transfer from Syracuse to Seton Hall University. Despite being accepted to NYU and Cornell, Cara said she chose Seton Hall for its strong academic reputation, exceptional faculty, and because it felt like home.
"Seton Hall professors have a lot of depth," she explained. "They are from Yale, Harvard, Stanford, and Columbia. My professors are former ambassadors and renowned experts in their fields. They bring so much experience to the classroom."
Cara's faculty advisers also connected her with two amazing opportunities: An internship with the World Food Program in Italy, and a position as a youth ambassador for the United Nations Development Programme. "My internship at the World Food Program helped me see how development work happens on the ground. It gave me a perspective on the logistics and politics involved. I'm lucky one of my professors was able to connect me with this tremendous opportunity."
For Cara, it was the chance to network that changed her life. From meeting foreign dignitaries such as the president of Italy and ambassadors from Cuba and the Philippines, to launching a non-governmental organization that created health care accessibility for people in Haiti and Venezuela, Cara has seen how the skills she gained outside the classroom will translate well into life after college. "The School of Diplomacy has such amazing connections with the United Nations and Seton Hall is so close to New York City that it really makes it easy to get involved and connected."
As a Fulbright finalist, Cara has an exciting path ahead. She plans to pursue graduate school and has been admitted to Princeton and Columbia. "I feel so prepared and I am so eager to get out there and put my skills to use. I would recommend Seton Hall to anyone."
Seton Hall Career Highlights
Youth ambassadorship for the U.N. Development Programme
Fulbright finalist
World Food Program in Italy internship
Studied abroad in Italy
International Law Society president
Special Olympics volunteer
Created SAVE to promote awareness and prevention of domestic violence
Co-chair for TEDx and conference organizer
Created a non-governmental organization to help with health care accessibility in Haiti and Venezuela
Model U.N. participant
Model U.N. mentor for high school students
Women for Women member