What Great Minds Can Do: Briana Glass
"The Career Center was my best friend. I visited freshman year, knowing nothing other than I wanted internships. I wound up having four amazing internships, and I got a job offer from Google in December of my senior year."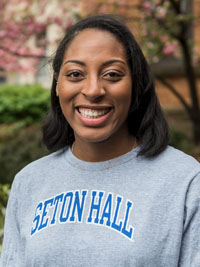 Everyone in Briana Glass's family attended large state universities. But, Briana knew she wanted a smaller school near New York City. When she visited Seton Hall, she was impressed. "I was surprised at how genuine everyone was when I visited. I met faculty members and the dean of the business school, and I felt that Seton Hall was the right place for me. Now, as I am graduating, I can say Seton Hall far exceeded my expectations. The small classes and personal attention I got from faculty allowed me to fulfill my dreams. I have received many opportunities and advantages due to the connections I obtained at Seton Hall."
Briana took full advantage of the Career Center starting in her freshman year, and ultimately she was able to secure four internships, including two summer internships at Google in the company's California headquarters. Those experiences then led to a job offer after graduation. "I am excited about my job at Google. This opportunity would not have been possible without the support I got from the Career Center and the education I got at Seton Hall."
Coming from the Midwest, Briana appreciated Seton Hall's diversity. "Seton Hall is such a diverse and welcoming community. I learned from studying abroad in China and Portugal, and from my classmates who come from all over the country and the world. This has enriched me with different viewpoints and perspectives."
Briana has high praise for the education she received. "The Stillman School of Business is phenomenal. The classes are challenging and our faculty are active in their fields; they bring expertise to the things they teach."
The faculty look out for their students as well. Briana tells the story of one professor who she hadn't seen in two years who reached out to invite her to join his class and visit startup firms because he knew she would be interested in the experience. "This is what I love about Seton Hall; faculty are always looking out for you, connecting you with opportunities."
Alumni also provided her with important opportunities. "I got my internship at Horizon Blue Cross Blue Shield through an alumni connection. When I got there, I realized how many Seton Hall graduates were well-placed in the company — and in other large companies. It was amazing how they embraced me and how easy they made it for me to fit in."
Seton Hall Career Highlights
Study Abroad; Shanghai, China
Study Abroad; Portugal
Four Internships
Social Media Team; Super Bowl
Member; Business Leadership Program
Member; Supply Chain Management Club