What Great Minds Can Do: Anthony Tokarz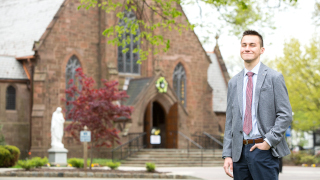 Anthony Tokarz came to Seton Hall with a year's worth of Advanced Placement credits, eager for scholarly pursuit. In three years, he accomplished far more than he imagined, immersing himself in intensive studies through the University's Honors program while also participating in Campus Ministry. He became vice president of the mythology club, served as a writer for The Diplomatic Envoy and The Stillman Exchange publications and was a founding member — as well as team captain — of the Federal Reserve Challenge team.
"In all the clubs I've been involved in, the faculty have been very hands on and very much willing to reach out to people they know on behalf of our interests, so we can go deeper."
"The School of Diplomacy was a complete shock, and I mean that in the best possible way," Anthony says. "Seton Hall is at a nexus of the Church, the state and the academic community, making the School of Diplomacy and International Relations primed to provide excellent opportunities that are possible only at that confluence."
Anthony valued this unique Seton Hall attribute as highly as hidden treasure. He was determined to delve into his Catholic faith as well as his interest in international relations, while enriching his understanding of their interconnectedness.
Encouraged and guided by faculty mentors, Anthony was able to engage his intellectual curiosity, explore career paths and apply his classroom learning in tangible ways.
"The faculty are inspiring, and they pushed me to step out of my comfort zone to be more ambitious. They also took the time to know me and figure out the ways in which my unique passions and skills could translate into the best career for me."
During Anthony's first semester, a professor invited him to a conference that inspired him to pursue his first internship. "This experience exposed me to the intersection between the United Nations and the Catholic Church. Having met several prime ministers and cardinals, I was inspired to pursue an internship with the think tank based in the United Nations, and it gave me an unparalleled view of the ways in which policy is translated into practice."
Anthony completed two internships and went on two pilgrimages – one in Rome and one in Panama. He also participated in a study abroad trip to Ethiopia with the School of Diplomacy and International Relations where he visited major landmarks and learned about how the African Union contributes to the political and the social fabric of Africa. "This trip was beyond my wildest expectations!"
Anthony has friends who attend Ivy League schools and other large universities, and he noticed a stark difference between his experience and theirs. At a smaller university with a tight-knit community like Seton Hall, it was a lot easier for Anthony to shine, take on leadership roles, build rewarding relationships, get access to prominent opportunities and make big-city connections.
"Their environments are much more regimented and siloed; there's not as much of the interaction that creates the opportunities I found so nourishing here. At Seton Hall, there is no hierarchy; everyone is on the same playing field, and we play cooperatively rather than competitively. There's just pure love through a shared commitment to education and living out the values of the Catholic mission."
Seton Hall Career Highlights
Two internships
Two Pilgrimages Abroad (Rome & Panama)
Study Abroad in Ethiopia
Founder and Team Captain; Federal Reserve Challenge Team
Vice President; Mythos Club
Member; Campus Ministry/Omega Discussion Group
Participant; Honors Program
Writer; The Diplomatic Envoy
Writer; The Stillman Exchange
Participant; Pirates for Life
Member; Sigma Iota Rho