Called to be Joyful Messengers of the Faith
Tuesday, August 16th, 2022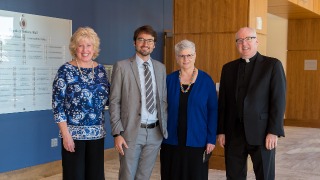 From left to right: Dianne Traflet (Associate Dean, ICSST), Filipe Domingues (The Lay Centre), Donna Orsuto (The Lay Centre), and Monsignor Joseph Reilly (Former Rector/Dean of ICSST)
On the last Saturday of July, approximately 100 religious educators and faith-filled leaders gathered on Seton Hall University's campus and online from as far away as Mexico for a day full of reflection, prayer, discussion and support centered around the ministry of lay catechesis.
The retreat, The Joy of Discovering and Communicating our New Life in Christ: Catechesis in the 21st Century, began with a breakfast reception followed by a warm welcome from Dianne Traflet, J.D., S.T.D., associate dean for Graduate Studies and Administration and assistant professor of Pastoral Theology at Immaculate Conception Seminary School of Theology (ICSST).
"You've inspired me over the years with your commitment to knowing your faith and sharing your faith with exuberance and great love," Traflet said to the audience in her introductory remarks. "We know that there will be many graces that come from today."
Monsignor Joseph Reilly, S.T.L., Ph.D., former rector and dean of ICSST, offered an opening prayer following, inviting participants to find joy in the Lord and to embrace the gift of ministry of the Church.
The day-long event was part of the ICSST's 4:12 initiative, a reference to St. Paul's Letter to the Ephesians and shorthand for "The 4:12 Pathway for Pastoral Leadership: Building an Authentic Culture of Discernment, Encouragement, and Accompaniment." The project, funded with support from the Lilly Endowment, Inc., is designed to foster new energy and growth in ICSST's academic and formation programs.
Building Up the Body of Christ
The main program began with a presentation by Donna Orsuto, S.T.D., co-founder and director of The Lay Centre at Foyer Unitas – an educational institution whose mission focuses on the formation of the laity, Christian unity, and interreligious dialogue. Based in Rome, Italy, The Lay Centre was a co-sponsor of the event.
Orsuto invited her audience to find God in their daily life and seek joy in their experience as catechists. Orsuto, who has written extensively on lay participation in the Church and is an internationally-renown retreat speaker, turned to the writings of Saint Paul and Saint Augustine to draw inspiration for catechists seeking to make their teaching more impactful. "Unite yourself with Christ," she said, quoting Augustine.
The audience included catechists whose ministry involves preparing the faithful to receive sacraments, including high school students readying for confirmation. Acknowledging the challenge of getting teenagers to participate in religious education classes, Orsuto shared some of the renowned 1st century theologian's salient recommendations.
She offered that rather than worrying that lessons were being missed, St. Augustine believed in making an effort "to pluck them out of their hiding place, to rouse them, and have good humor." St. Augustine counseled that we aim for "a certain attunement with others."
The audience posed several questions for Orsuto. One attendee asked for additional advice on how to reach teenagers who might only be attending religious education at their parent's request. Orsuto encouraged educators to enter into a conversation with their students to truly understand their lives. Having a personal relationship with the Lord might not be easy, Orsuto conceded, but it will make a difference in their lives. Orsuto also talked about catechizing to people from diverse backgrounds, reminding listeners to take the journey with them, and respect every dimension of their lives. "Live an ordinary life with extraordinary grace," she offered.
"Proclaim the message with our lives, not with a loudspeaker." – Pope Francis.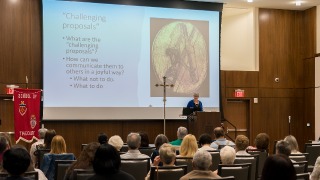 Donna Orsuto, S.T.D., presented throughout the morning, including the pictured presentation titled "Joyful Messengers of Challenging Proposals."
After a break for reflection, Orsuto returned to the podium with a story about her encounter with Dorothy Day, the journalist, social activist and a founder of the Catholic Worker Movement. While working toward her doctorate at Gregorian University in Rome in 1989, Orsuto found herself alone on the Fourth of July, reading Day's 1952 autobiography, The Long Loneliness. Orsuto, feeling melancholy about spending the holiday by herself, says she was touched by Day's acknowledgement that we all experience loneliness at one time or another, and that nothing satisfies us completely, except for God.
For Orsuto, Day's life was a powerful reminder of the value of moving beyond our comfort zone in order to become joyful messengers of Christ. She also acknowledged Day's practical wisdom for cultivating a life in Christ. Orsuto further explained that Day saw the importance of having "a strong sense of self knowledge and a knowledge of God." Seeing ourselves as created in the image of God, asking for God's mercy, and leaving space for silent reflection, prayer, Mass while opening ourselves to God's presence were part of Day's best practices that Orsuto recommended.
"Being joyful is both a gift and a responsibility. Live out the life of holiness. This leads to authenticity which makes us credible witnesses of the Gospels," Orsuto concluded. Referencing Pope Paul VI, she said, "Men and women of today listen more to witnesses than to teachers."
Drink from the Living Water
Following mass in the Chapel of the Immaculate Conception and lunch in Bethany Hall, the program resumed with a discussion focused on hearing the calling of Christ, led by Patrick Manning, Ph.D., associate professor and chair of pastoral theology. Professor Manning began by reading the story of the Samarian woman at the well who is asked by Jesus for a drink of water and soon realizes she has met the Messiah. "The encounter shows Jesus asking something of her," Manning said, not unlike the sense that catechists often have that God is calling them.
Manning further reflected, "We may not know what we are going to do." The task of being "involved with the salvation of souls," he said, might seem impossible and not something we can accomplish on our own. "Jesus doesn't leave us alone; he equips us for this work. We need only ask for God's help."
By turning to prayer, Manning continued, people can deepen their relationship with Christ. He added that prayer allows the faithful to speak directly to God and to put everything in His hands and trust that He is going to take care of us. "Go into your inner room, shut the door and be aware that God is there with you, loving you," he encouraged. By nurturing their relationship with Christ and letting "that witness shine forth," catechists can inspire others.
The work of catechists is as varied as it is rewarding. It can involve important life milestones such as baptism and marriage preparation, and as well teaching about the scriptures and exploring morality. Manning recommended that catechists speak "as people who are trying to journey along with the people they are catechizing."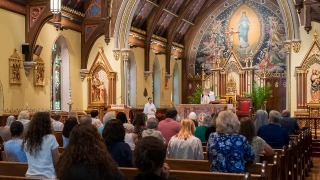 In the afternoon, participants celebrated Mass together, taking time for quiet reflection and prayer.
Just as Donna Orsuto acknowledged earlier in the day, Manning agreed that reaching young people was critically important. He referred to national research reporting that like their older counterparts, young people are also grappling with many challenges, including the environmental crisis, global pandemic and terrorism. "They feel like the world is going to pieces around them," he said. What they are seeking, the study found, is purpose and peace of mind.
"This is the place to start – as Jesus did for the woman at the well. He met her at the place she was coming. We start with the needs and desires of the people we are catechizing and offer the living waters of this tradition to alleviate their thirst," Manning noted.
Pursuing contemplative practices of the Christian faith, journaling and reading scripture are practices Manning offered where students can create "a space for God" in their daily lives. He emphasized, "This encounter with Christ its energizing and joyful for us and for them."
Witnesses of the Good News
The last speaker of the day, Filipe Domingues, Ph.D., brought insights gained from his own spiritual journey and his later experience working with young people around the world. "If we want to reach out to young people today," he said, "we have to know we will be challenged by them."
Domingues, who is a journalist from Brazil and the deputy director of The Lay Centre in Rome, attended the 2018 Synod of Bishops on Young People, Faith and Vocational Discernment, and was appointed by Pope Francis as a collaborator to the synod's special secretary.
Domingues reached the audience with a clear message: "If we are not firm in our conviction that Christ is alive and that he is with us, it will be more difficult."
Young people, he said, are often curious about who Christ was. They see him as a historical figure, as "someone who did good, who spoke with the marginalized in society. But many of them don't make the second step to recognize Christ as God." This was the level that requires the focus and talent of catechists, he added.
Domingues called on catechists to be empathetic, authentic role models as they help young people with their discernment. He invited them to share their experiences of the joy of meeting Christ and to let them know that the Church needs them and to look for Christ there.
Continuing the Joy of Our New Life in Christ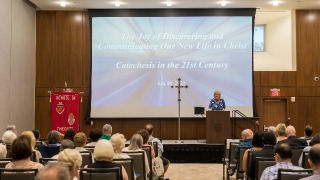 Associate Dean of ICSST Dianne Traflet delivered the opening and closing remarks to the day-long event featuring prayer, reflection and discussion.
"Looking back on the retreat, it truly was an inspiring and uplifting day as we explored the ministry of catechesis with our presenters," ICSST's Dianne Traflet reflected as the afternoon came to a close. "We are grateful for Donna Orsuto, Filipe Domingues, and Patrick Manning, and to all those who participated by joining us on campus and from their homes. God's grace was with us."
Looking ahead, ICSST and The Lay Centre will continue their collaboration, working together on future events in the coming months including an international, ecumenical symposium that will be held in Rome in July 2023.
About ICSST
Immaculate Conception Seminary is a House of Formation for the Roman Catholic priesthood and the School of Theology of Seton Hall University. As a House of Formation, the Seminary offers men preparing for the priesthood the personal, academic, ministerial and spiritual formation essential for their conversion to Jesus Christ and for their commitment to a life of service to the Church.
As a School of Theology, the Seminary provides a theological and philosophical foundation for men and women pursuing undergraduate and graduate studies; preparing for ministries among the people of God; and varied opportunities for continuing theological education.
Forming priests for God's people has remained the Seminary's constant focus, and the Seminary faculty—well-educated authors and scholars in their own fields—devote their time and energy to preparing these men for priesthood amidst the challenges of the 21st century. The School also focuses on the education of lay men and women in theology, permanent deacons, religious who are not studying for ordination, and already-ordained priests—not only providing for them academically, but also for their personal, pastoral, and spiritual formation.
Categories: Faith and Service