OSE and Career Center Collaboration Helps Prepare Seniors for Post-Graduation Success
Monday, February 20, 2023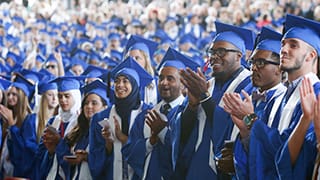 The Office of Student Engagement and the Career Center have partnered this semester to offer a Snack and Learn Career Series for graduating seniors. This collaboration was created to help bolster senior class programming with an emphasis on professional development experiences for graduating students.
Kicking off last Wednesday with a session on "Results-Driven Resumes," the Senior Snack & Learn Career Series is a 6-part workshop series focusing on various career competencies and skills, including professional etiquette, networking skills and navigating your first job after graduation. Career Counselors will present on these topics, and provide help, tips and tricks that students can take with them into their professional careers. Attending students will have ample opportunities to ask questions and practice new skills, all while enjoying some delicious snacks.
The remaining five workshops will take place on select Wednesdays in the University Center. A full schedule of workshops, and their topics, is listed below and can also be found via Engage and the Senior Events page on the University's website.
Interview Mastery and Tips | Wednesday, March 1st | 3:30 p.m., Chancellor's Suite
Career Counselor Juliana Gijima will share tips and tricks to help you master the interview and land your dream job.
Career Readiness 101: Seniors | Wednesday, March 15th | 3:30 p.m., Chancellor's Suite
Seniors will learn what they need to be successful in their post-graduate career from Career Counselor Christine Milano.
Maximize Opportunities: Career Fair, Networking | Wednesday, March 22nd | 3:30 p.m., Chancellor's Suite
Career Counselor Victoria Rivera will help students prepare for the upcoming Career Expo and share how best to network in your career.
First Job Success & Professional Etiquette Tips | Wednesday, April 12th | 3:30 p.m., Chancellor's Suite
Seniors heading into their first job will receive guidance from Career Counselor Director Jorge Rivera that will set them up for success in their first role.
Budgeting 101 for College Seniors | Wednesday, April 26th | 3:30 p.m., University Center Meeting Room (Rm. 206)
Career Center Director, Jorge Rivera, will wrap up the Snack & Learn Series by sharing helping hints to set up students for financial success after graduation.
Students with ideas or questions about upcoming senior programming can email [email protected].
Categories: Campus Life, Education