Center for Sports Media Hosts Panel with ESPN, WNBA Stars on Brittney Griner's Case, Day Before Her Release
Thursday, December 8th, 2022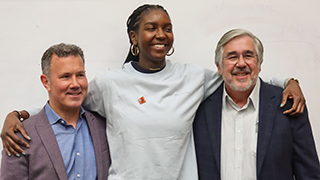 ESPN reporter TJ Quinn, Washington Mystics player Elizabeth Williams, and Executive Founder of Center for Sports Media Bob Ley '76 were part of the panel discussion. Photo credit: Beth Berardi
Seton Hall University's Center for Sports Media hosted a panel discussion on Brittney Griner's imprisonment in Russia a day before a deal to release the WNBA star in a prisoner swap was announced.
"From Brittney Griner to the World Cup: The Virtues and Perils of International Sport" featured Washington Mystics player Elizabeth Williams and ESPN reporter TJ Quinn and was moderated by Executive Founder of Center for Sports Media Bob Ley '76, award-winning former ESPN sports anchor.
Williams, who is also the secretary of the WNBA Players Association Executive Council, has also been an essential leader in the campaign to bring WNBA player Brittney Griner home from captivity in Russia. Williams was also a leading voice in the "Vote Warnock" campaign, advocating for Rafael Warnock to win the senate seat in Georgia after Atlanta Dream team owner and Republican senate candidate Kelly Loeffler openly criticized the Black Lives Matter movement.
Additionally, TJ Quinn, an investigative reporter for ESPN, has been spearheading coverage regarding the Griner case following his success behind many sports scandal situations. His context was crucial in helping students understand the geo-political context of Griner's arrest. Ley, who, aside from his impressive and well-known career, still manages to keep his alma mater at the forefront, equipping the Hall with panel discussions and seminars such as this one.
"There aren't three people with a more balanced insight into what is happening today than Williams, Quinn and Ley," said Executive Director of the Center for Sports Media Jane McManus. Reflecting on the timing of the event, she added, "I am so glad Seton Hall students had a chance to understand the context of Griner's release before it happened. These conversations are exactly what we are trying to have at the Center for Sports Media."
Williams met with a small group of students and McManus before the panel, and stayed to take selfies and shake hands. Faculty and students from throughout the University attended.
Watch video highlights from the event here »
About Seton Hall's Center for Sports Media
The Center for Sports Media within the College of Communication and the Arts redefines how students are trained in media, communications, sports business, engaging with the sports community, and producing groundbreaking content through University channels and partnerships with major media outlets. Established in Fall 2021, the Center for Sports Media provides an interdisciplinary foundation for academic training and theory with practical experience pertinent to excellence in the Sports Media discipline.
Categories: Education