Faculty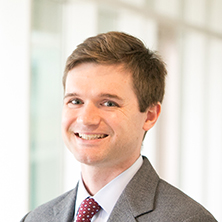 Branden Buehler
Branden Buehler, Ph.D., received his doctoral degree from the University of Southern California School of Cinematic Arts, after obtaining his master's at Georgetown University and his bachelor's at Cornell University. As a media studies scholar, Buehler's research focuses on sports television and sports media industries.
---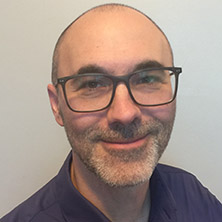 Jonathan Kraszewski
Jonathan Kraszewski, Ph.D., graduated from Indiana University soon after receiving his M.A. from Georgetown University, formerly acquiring his B.A. from Indiana University at Pennsylvania. Prolific in his field, Dr. Kraszewski has published two books and authored several articles on various visual media domains relative to mainstream socio-cultural and political constructs.
---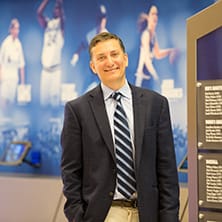 B.J. Schecter
A graduate of Northeastern University in 1996, B.J. Schecter has worked in the sports media industry for more than 30 years. Schecter spent 20 years as a writer, editor and executive at Sports Illustrated before leaving in 2016. He then was editor and publisher at Baseball America for five years. Schecter is now Editorial Director at 3Step Sports and a Professional-in-Residence for the College of Communication and the Arts.
---
Affiliates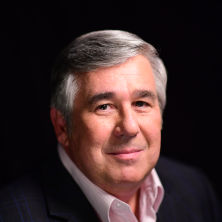 Bob Ley
Bob Ley had an illustrious professional career that spanned more than 40 years after graduating with a Bachelor of Arts degree in Communication at Seton Hall in 1976. Ley worked at ESPN from 1979 until his retirement from the network in 2019, where he tackled the biggest stories in sports on Outside the Lines. Ley has won 11 Sports Emmys, two Peabody Awards and four Edward R. Murrow Awards.
---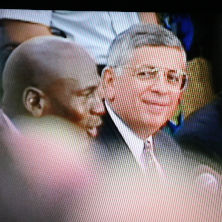 Charles Grantham
The current Director of the Center for Sport Management at Seton Hall University's Stillman School of Business, Charles Grantham, MBA, has made a mark in professional sports. Grantham has represented or advised NBA players including Charles Oakley, Amare Stoudemire, and Tobias Harris. Grantham also was formerly a union executive with the National Basketball Players Association (NBPA) from 1976 to 1995.
---
Invited Guests
George Atallah
George Atallah currently serves as the assistant executive director of external affairs for the NFL Players Association. Atallah has been in that position since 2009 and has led the organization's communication and media strategy through several crisis situations.
Judy Battista
Judy Battista is a journalist with NFL Media. She joined in 2013 after being with the New York Times covering the NFL nationally for almost 15 years. Battista also appears on NFL Network programming.
Jeff Benedict
Jeff Benedict is an author, a television and film producer, and a feature writer for Sports Illustrated. Some of Benedict's recent works include The Dynasty, an inside look at the New England Patriots, a biography of Tiger Woods, and QB: My Life Behind the Spiral, an autobiography of Hall of Fame quarterback Steve Young.
Jay Bilas
Known by his broadcasting, Jay Bilas is a college basketball analyst who currently works for ESPN. Bilas has been at ESPN since 1995 and was previously an assistant coach under Mike Krzyzewski at Duke and a professional basketball player.
Scott Burrel
Scott Burrell is a former UConn Star, NBA and MLB player who is currently the men's basketball head coach at Southern Connecticut State University. Burrell also has experience working with Foz as a broadcaster.
Bob Costas
Bob Costas is known for his tenure with NBC Sports that ran from 1980 through 2019. Costas has received 28 Emmy awards for his work. Currently, Costas is with the MLB Network doing play-by-play broadcasting.
Paul Fichtenbaum
Paul Fichtenbaum holds the title of Chief Content Officer with The Athletic. Formerly, Fichtenbaum was an editor at Sports Illustrated.
Doug Glanville
Doug Glanville is a former MLB player who is currently an analyst for baseball, working with NBC Sports Chicago and ESPN. Glanville also is a contributor to The Athletic and is the author of the book, The Game from Where I Stand: A Ballplayer's Inside View.
Bomani Jones
An esteemed sports journalist, Bomani Jones is known for various roles on ESPN. Jones also hosts The Right Time with Bomani Jones, The Evening Jones, and recently will star in a weekly, late-night series on HBO called "Game Theory with Bomani Jones."
Elizabeth Newman
Elizabeth Newman had a distinguished career with Sports Illustrated, holding positions there for over 19 years before moving on. He current positions sees her as the general editor and director of Rhoden Fellows with the Undefeated at ESPN while also being an instructor at the School of New York Times and an adjunct Professor at the Craig Newmark Graduate School of Journalism at CUNY.
Ben Reiter
Raised in South Orange, NJ, Ben Reiter was a longtime senior writer with Sports Illustrated, writing 27 cover stories for the magazine. Currently, Reiter is the Author of Astroball: The New Way to Win it All and the Host and Producer of The Edge.
David Stern
David Stern was the fourth commissioner of the National Basketball Association and held the title from 1984 to 2014. Stern help foster the growth of the NBA internationally and oversaw the creation of the Women's National Basketball Association, the NBA G League, the NBA's digital presence with NBA.com, NBA TV, and NBA League Pass, and NBA Cares the league's social responsibility program. Locally, Stern was on the Rutgers University Board of Overseers.
Adam Silver
Adam Silver is the fifth commissioner of the National Basketball Association, succeeding David Stern in 2014. Silver held various other positions in the league, including chief operating officer and deputy commissioner.
Michael Smith
Michael Smith is a TV sports commentator, sportswriter, and sports journalist whose best known for his time at ESPN that lasted 15 years. Smith is currently a principal with Inflection Point Entertainment and joined the Peacock streaming service to host a show called Brother from Another.
Stephen A. Smith
Steven A. Smith is a decorated sports personality on ESPN. Smith is commonly known for this role on ESPN's First Take on the weekdays. Smith is also a featured commentator on NBA Countdown, SportsCenter with Stephen A. Smith, and recently debuted Stephen A's World on ESPN+.
Jayson Stark
Stark is a sportswriter and author. He currently covers baseball for The Athletic and MLB Network and is the 2019 winner of the J.G. Taylor Spink Award and was honored at The Baseball Hall of Fame. Stark is also known for his time at ESPN and ESPN.com covering baseball.
Tom Verducci
Native of New Jersey, Tom Verducci is an established baseball sportswriter and sportscaster. Verducci is known for his writing for Sports Illustrated and SI.com and is also a reporter and commentator for Fox Major League Baseball and MLB Network.
Marc Weiner
Marc Weiner is currently the coordinating producer with the MLB & NHL Network, a position that he has held since 2011. Prior to that, Weiner was a producer and production assistant at ESPN.
Dontrelle Willis
A former MLB All-Star Pitcher and a World Series champion, Dontrelle Willis had a great career in the majors. Since retirement, Willis worked recently as an analyst for MLB on Fox and NBC Sports California before recently announcing that he will serve as a special assistant in player development with the Los Angeles Dodgers.