Billie Jean King and Ilana Kloss at Seton Hall
Friday, February 17th, 2023
With an audience that included students, faculty, visitors and members of the press, sports and equality icon Billie Jean King and her partner, sports industry leader Ilana Kloss, engaged in a Q & A at Seton Hall. The talk was entitled "Equity, Influence and the Next Generation in Sports with Billie Jean King and Ilana Kloss."
Presented by The Center for Sports Media within the College of Communication and the Arts with sponsorship from RWJBarnabas Health, the event was moderated by Jane McManus, executive director of the Center for Sports Media and former ESPN analyst and columnist for the New York Daily News.
Welcome remarks and introductions were made by Professional-in-Residence BJ Schecter, a former editor for Sports Illustrated and current publisher of Baseball America. The audience, which filled the event space room in the new University Center and included more than a hundred more from throughout the world watching the presentation via livestream, were then shown an introduction and retrospective of Billie Jean King's life and career – with much of the underlying content currently under exhibition by the New York Historical Society in "Billie Jean King: Champion. Activist. Legend." at the Yogi Berra Museum and Learning Center.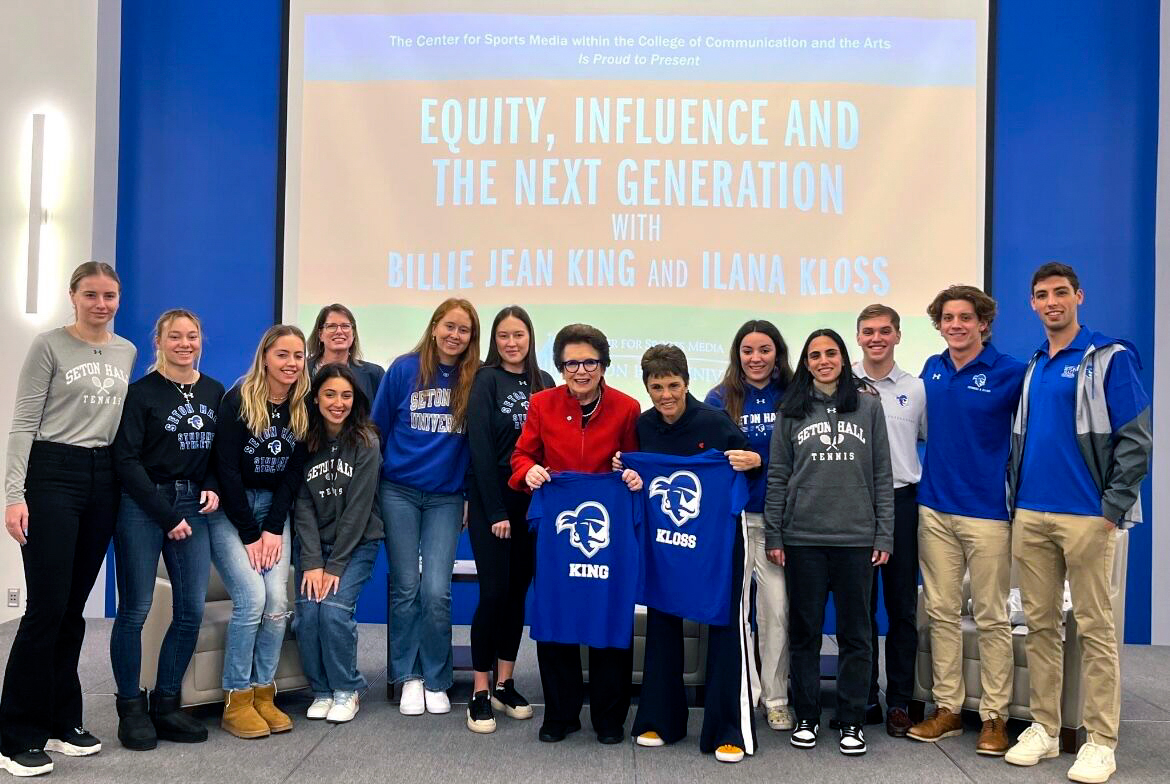 Billie Jean King and Ilana Kloss with Seton Hall students. Photo by Wilnir Louis.
After the introduction, McManus (who is still a columnist for Deadspin), said to King: "Things are changing. We're 50 years after Title IX now" and then noted a series of facts and figures that showed progress for women's sports in terms of pay equity and marketplace value, including the projected sale for $50M of three NWSL teams, an ESPN/NCAA deal for $500M to broadcast 14 women's sports events and the new collective bargaining agreements for the U.S. men's and women's national soccer teams – which, for the first time, featured pay equity for men and women. McManus asked: "When you see this much momentum and enthusiasm, is this the moment?"
King replied: "No, we're not even... We are just getting started. We are always so far behind. So far behind. I think that companies should ask themselves: 'Do you spend as much on women's sports as you do on men's sports? That's the one I want to see.'"
Kloss added, "…If you invest in women and give them the same kind of emotional investment, financial investment and time commitment, then you judge. I think people tend to look at men's sports and how long they've been around and they don't really give women's sports the same opportunities. But I think that's starting to change. Kloss further noted the increase in billionaires taking ownership of women's sports teams to "round out their portfolios."
Speaking about new fields of competition and the prospect of men and women competing with and against other, McManus said "There are ways to combine events. We have a poll here at Seton Hall and it is run out of the Stillman School. They have done some polling on women's sports and found that 57% of Avid Fans would like to see more combined sports where men and women play with or against each other." Billie Jean King responded: "I have been suggesting this my whole life."
McManus: "So why..."
BJK: "Nobody will budge..."
McManus: "Why do you think that is, when it would bring in more money?"
BJK: "People get used to what ever is. They love it. They understand it. They are losing but they understand it. It feels comfortable. I say get comfortable with being uncomfortable."
The event ended with a special presentation of Seton Hall jerseys to King and Kloss from the tennis team and other athletes. Video of the full event can be accessed above.
Categories: Arts and Culture