Evening of Roses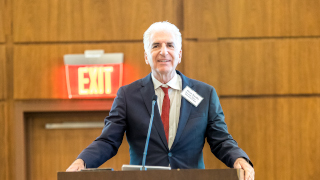 Oren Jacoby, Director of the Academy Award nominated film, Sister Rose's Passion, accepts his award at the Evening of Roses Gala in 2022.
Traditionally held in the spring of each year, this social, fundraising event aims to honor individuals who have made an outstanding contribution in furthering the legacy of Sister Rose Thering. The funds raised through this program and its commemorative ad journal help provide scholarships for teachers in graduate Jewish-Christian Studies, thereby fostering understanding among Jews, Christians and people of other religious traditions through advocacy and education.
The Sister Rose Thering Fund would like to thank all our sponsors for a wonderful Evening of Roses 2022 and a celebration of all Sister Rose meant and accomplished. A special thank you to Oren Jacoby, our honoree and keynote speaker, and our Board of Trustees for their dedication and devotion to forming a culture of upstanders who seek a better world without antisemitism and bigotry. Click here to view the 2022 ad journal »
Scholarship Awards Program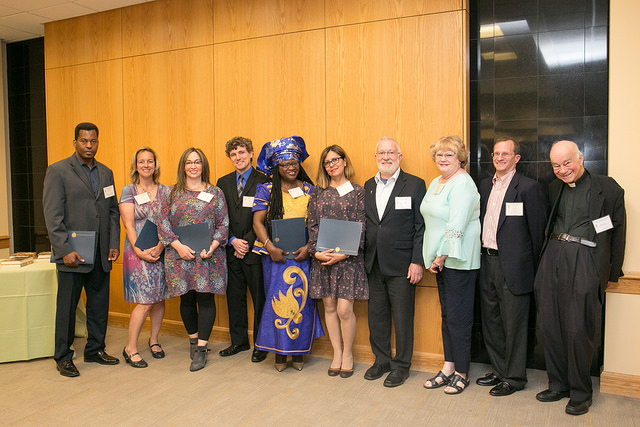 The SRTF teacher-scholars pose for a photo at the 2018 program.
Teachers and sponsors of their awards meet one another and receive a certificate honoring them for their academic work.
Individuals speaking on topics geared to the interest of educators are invited to share and inspire.





Annual Middle and High School Literary Arts and Video Competition
For 13 years, the Sister Rose Thering Fund has offered a statewide writing competition for high school students in New Jersey who have viewed and discussed the award-winning documentary Sister Rose's Passion. Information about and copies of the film are distributed to public, private and religious schools in cooperation with the New Jersey Commission for Holocaust Education.
For 2024, the Sister Rose Thering Fund is pleased to enhance the competition by broadening its submission categories. In addition to essays, poetry and video submissions will now be accepted.
A committee of readers evaluates the hundreds of submitted entries to determine winners, first and second place for each grade 7-12. The winners, their teachers and families are invited to a reception on the Seton Hall campus and receive certificates, gifts and monetary awards.
Submissions for the Fourteenth Annual Competition are being accepted with an entry deadline of Friday, February 2, 2024. Details about the 2024 competition and its guidelines can be found here »
Dr. Marcia Robbins Wilf Endowed Lecture Series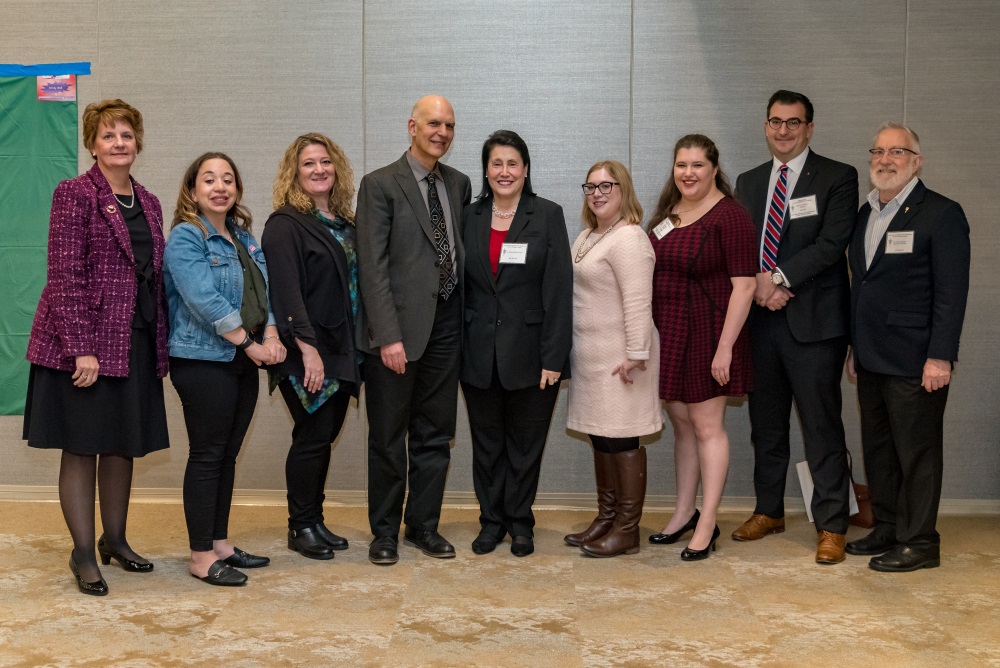 Dr. Marcia Robbins Wilf (center) poses with Michael Rubell and the panelists at the 2018 Robbins Wilf Lecture.
Thanks to the generosity of Dr. Marcia Robbins Wilf, founding trustee of the Sister Rose Thering Fund, prestigious lecturers are invited to Seton Hall to promote inter-religious understanding and dialogue. The lecturers themselves, from all areas of academia across the country, draw an audience from the entire University as well as the surrounding communities.
The Sister Rose Thering Fund is pleased to welcome guest speaker Rachel Slutsky, Ph.D., visiting professor at Seton Hall University, for this year's lecture titled "Why Bother with Interfaith Dialogue? A Jewish Woman's Ongoing Journey Through Mosques, Monasteries, and Buddhist Temples." Register to attend »
Click here to view a recording from the tenth annual Dr. Marcia Robbins Wilf Lecture featuring Mark Oppenheimer, author of Squirrel Hill: The Tree of Life Synagogue Shooting and the Soul of a Neighborhood.