Scholarship Honoring Nursing Alumna Awarded to Sophomore
Thursday, December 2nd, 2021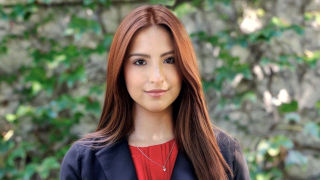 Stephanie Martinez, sophomore nursing student from Parsippany, New Jersey
Seton Hall University's College of Nursing is pleased to announce that the 2021 Minette's Angels Foundation Scholarship has been awarded to Stephanie Martinez, a sophomore nursing student from Parsippany, New Jersey.
The Minette's Angels Foundation honors Minette Grosso McKenna, a Seton Hall nursing alumna who died in 2003 after a long battle against breast cancer. The scholarship is awarded annually to a second-year nursing student who exhibits academic excellence, strength and determination. When Minette's husband Ken McKenna established the scholarship in 2015, it was important to him that the College select a sophomore each year. "I wanted somebody who was committed to being a nurse," he said. "Each recipient has been very amazing to us, and we have tried to support them through all of their college career. I think it speaks to the quality of those young women."
Acknowledging that the award will help her reach her full potential and possibly become a Pediatric Nurse Practitioner, Martinez noted, "I know that with all of the courses, training and resources that Seton Hall gives the nursing students, it will allow me to explore my options more in depth in the coming years and decide on that passion." She also added, "This scholarship gives me a chance to be part of a community that cares about people every day and learn more about this field every day."
In her scholarship application essay, Martinez wrote that her mission as a student nurse is to "one day provide altruistic care to those who need it in their most vulnerable times. As I continue this journey to become a compassionate nurse, I will strive to put forth my best efforts to develop the necessary critical thinking skills and knowledge needed to make a difference through nursing care."
"In the end, the deep-rooted passion of becoming an honest and respectful nurse is what drives me forward," she added. "Success is not a destination, but a unique path that each nursing student will follow as an aspiring nurse."
While at Seton Hall, Martinez has certainly demonstrated success. She was also awarded the Joseph A. Unanue Latino Scholarship, which she said has allowed her "to become more educated on my culture in terms of higher education and keep a part of who I am during my continuing education."
"The Minette's Angels Scholarship not only helps a student like me with a mind and passion for the nursing career, but also allows people in the future to have a nurse who is trained in their field to save their lives, one day at a time," said Martinez.
The previous College of Nursing students who received the Minette's Angels Scholarship are:
2020 ~ Elizabeth Bishop
2019 ~ Mikayla Reilly
2018 ~ Grace Szura
2017 ~ Brooke Bussiere
2016 ~ Gabriela Puerto
2015 ~ Miranda Rasmus
For more information about the Minette's Angels Foundation, visit their website.
About the College of Nursing
As New Jersey's first college to offer a Bachelor of Science in Nursing (B.S.N.) program, Seton Hall's College of Nursing has educated approximately one-third of all New Jersey nurses and is one of the few universities in the country to be an approved College of Nursing for Army ROTC nursing candidates. U.S. News & World Report ranks Seton Hall's College of Nursing as one of the top graduate nursing programs in the country. Offering educational opportunities from B.S.N. and Accelerated B.S.N. degree through the Doctor of Nursing Practice (D.N.P.) and Ph.D., the College's mission is to educate baccalaureate-prepared generalists and advanced practitioners of nursing who aspire to be innovators and leaders in the nursing profession with a commitment to lifelong learning, service and leadership for the greater good of the global society.
Categories: Education, Health and Medicine