Minette's Angels Foundation Scholarship Aids Nursing Students
Monday, November 2nd, 2020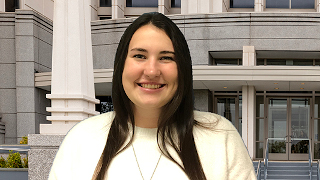 Sophomore nursing student Elizabeth Bishop is the 2020 recipient of the Minette's Angels Foundation Scholarship.
Seton Hall University's College of Nursing is pleased to announce that the 2020 Minette's Angels Foundation Scholarship has been awarded to Elizabeth Bishop, a sophomore nursing student.
The Minette's Angels Foundation honors Minette Grosso McKenna, a Seton Hall nursing alumna who died in 2003 after a long battle against breast cancer. The Scholarship is awarded annually to a second-year nursing student at Seton Hall who exhibits academic excellence, strength and determination. Through its Board of Trustees and volunteers, the Foundation strives to carry on Minette's legacy whose courage, strength and determination during her ten-year battle was the inspiration for the Foundation.
Elizabeth is from Dearborn, Michigan, and attended a Catholic high school, Divine Child. After hearing she received the award, Elizabeth said, "This scholarship is such a blessing. My younger sister will be beginning college next year, so receiving this scholarship will help alleviate some of the financial burden on my parents, which I am extremely grateful for."
In her scholarship application essay, Elizabeth wrote, "My biggest goal as a nurse is to selflessly serve all my patients and coworkers and share with them with the light of Christ. I want to be someone who can make patients laugh, if even just for a moment."
She also expressed how she has developed an interest in working with cancer patients as she has known many friends and family who have "suffered from the devastating losses that come with cancer." She added, "However, I have also experienced the unsurpassable joy that arrives when an individual learns that he/she is cancer free. Being able to walk with patients through their trials and rejoicing in their joy are two of my goals in my future as a nurse."
While Elizabeth is not sure yet which exact field of nursing she wants to pursue, she is considering NICU Nursing, Pediatrics or Oncology. "I am looking forward to the start of my clinical education next year so I can really dive deeper into these specialties and discover where God wants me," she said.
About the Minette's Angels Foundation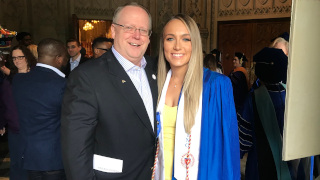 Minette's Angels Foundation President and Founder Ken McKenna, pictured here with the first recipient of the scholarship, Miranda Rasmus, says that the scholarship has always been about helping people.
To learn more about the Minette's Angels Foundation, we interviewed its President and Founder Ken McKenna, who spoke about his late wife Minette and how he started the Foundation.
Ken and Minette met at Seton Hall; she was in the class of '81 and he was in the class of '79. "I was involved in the hockey program at Seton Hall. One of my friends knew Minette's sister and suggested she should come out as the trainer for the hockey program," he explained. "That's how I got to know her; we got married in 1982."
Ken and Minette had three children together, Bryan, 36, Elizabeth, 33 and Christopher, 31. After Bryan was born, they moved to Verona and lived there for 25 years. "I was very active in town and so was Minette. Even after she got diagnosed with breast cancer in 1993 she remained active," he said. "After she passed away, inspired by her community service, I became more active within the town which included serving as a councilman as well as mayor and nonprofit organizations such as the United Way."
Minette first worked as an RN at St. Mary's Hospital in Orange, eventually becoming a charge nurse and and later worked at Montclair Community Hospital, as well as a school nurse in Nutley. While a nurse, Minette always devoted herself to those in her care; she continued that dedication by offering assistance and support to other cancer patients —all while fighting her own battle.
"After Minette stopped working as a nurse, even with her illness and while raising the kids, she always reached out to people to help them," said Ken. In addition, she was involved with many breast cancer organizations helping to raise funding for research, education, screening and treatment.
Ken started the foundation a year after Minette passed away. "The organization was supposed to be grassroots and do local things in Verona, such as awarding scholarships and helping people in the town," said Ken. "When I got remarried, my wife Kathy was very good at fundraising and helped us grow the foundation and we put some of the money from each anniversary into scholarships. This led to the Seton Hall Nursing Scholarship — since Minette found me at Seton Hall and was a Nursing major, it was an obvious extension."
The Foundation's mission seeks to "keep the spirit of Minette alive by supporting breast cancer patients and survivors." They provide assistance to those in treatment, support research and promote breast health awareness. In addition to their annual support of Seton Hall's nursing students, the Foundation also awards scholarships to high school seniors from Verona entering the medical field, placing a priority on nursing majors, and an Impact Scholarship to a High School Senior who has been affected by breast cancer.
Originally when Ken started the scholarship at Seton Hall, it was important to select a sophomore each year. "I wanted to choose somebody who was committed to being a nurse," he said and explained the selection process. "We rely on the College of Nursing to submit good candidates. They do a lot of screening, such as track the students through the summer coming into their sophomore year to note their progress as well as whether or not they are continuing their degree into the next year, as well as all financial aid concerns," he said.
Ken and his family became very close with the first recipient of the scholarship, Miranda Rasmus, leading them to want to support her — and subsequent awardees — throughout college. "The scholarship has always been about helping people," he said, recalling when Miranda came to speak at one of their events since she was the first scholarship recipient. "In her speech, she told about how she lost her Mom to breast cancer, which she did not mention in her scholarship application essay, showing she is not the kind of person to try and take the easy card."
He added, "Each recipient has been very amazing to us, and we have tried to support them through all of their college career. I think it speaks to the quality of those young women."
For more information about the Minette's Angels Foundation, visit their website.
Categories: Education, Health and Medicine