Professor Named as National Academy of School Nursing Fellow
Wednesday, August 3rd, 2022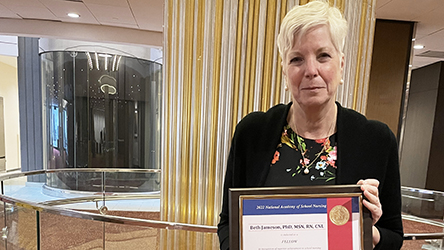 In June, College of Nursing Assistant Professor Beth Jameson, Ph.D. was inducted as a National Academy of School Nursing Fellow at the National Association of School Nurses Annual Conference in Atlanta, Georgia. Jameson is one of only seven distinguished school nurses from around the country who received the most prestigious recognition that members can receive from NASN.
The Academy noted, "The honor of Fellow is … a symbol of superior achievement in the school nursing profession and exceptional contributions to National Association of School Nurses (NASN) and the profession of school nursing. The depth and breadth of the Fellow's imprint on the field is extraordinary; their contributions have had significant and enduring impact, and their exemplary leadership qualities and achievements are recognized by many."
The National Academy of School Nursing Fellows was founded in 1997 and has since inducted 107 school nursing fellows.
College of Nursing Dean Marie Foley, Ph.D., R.N., who recommended Jameson for the fellowship, said, "Dr. Jameson is a national leader and scholar who has transformed the practice of school nurses to assist students to live healthy lives. These enduring contributions to school nursing practice will improve and ensure student health in this country." She also noted that Jameson received the College's Researcher of the Year Award for 2021.
"As a Fellow I look forward to continuing to make significant contributions as an influential visionary, nurse leader, and mentor for those who will be following in our footsteps," said Jameson, who was surprised when she read her accomplishments on the award recommendation. "I did not realize how much I was interacting and developing a sustained impact on school nursing early on in my career before I was working as a school nurse," she said. "Once I became one, I devoted my time, energies and talents to supporting and promoting the role of the school nurse."
For almost 30 years of her nursing career, Jameson has advocated for children's health. She is a Certified Nurse Leader (CNL), New Jersey certified school nurse and a certified instructor for Youth Mental Health First Aid, as well as the NASN Co-chair of the Workload Task Force Team and a National Presenter on Focus on the Framework™: Quality Improvement. She has developed a sustained program of research that encompasses the integration of practice, education, scholarship and research that emphasizes a systematic and deliberate approach to advance the health of the school-age child and to inform school health policy in academic and clinical practice environments. Funded research activities include school nurse staffing and chronic health conditions care policies; performing school health/school nursing regional needs assessment; and developing a workload instrument for school nursing.
Her undergraduate course load at the College of Nursing includes Epidemiology and World Health, Health Assessment, Professional Nursing Practice Foundations and Research in Nursing.
Jameson is also a co-founder and advisor for The Center for School Health Innovation and Quality, a group of school health experts that are committed to driving innovation in school health research and leadership so students in every community gain the tools needed to thrive in school and live healthy lives. The Center serves as a think tank for school health stakeholders, providing consultation, needs assessments and training in relation to school health programs.
Dean Foley added, "Dr. Jameson's substantive contributions and superior achievements in the school nursing profession along with her exceptional contributions to NASN have created a significant and lasting impact on the profession of school nursing and students nationwide."
Categories: Health and Medicine