Nursing Professor Honored for Excellence in Geriatric Field
Wednesday, September 28th, 2022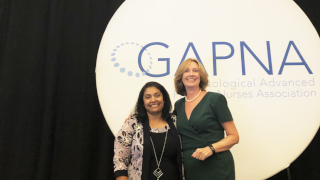 Assistant Professor Margaret (Peg) Huryk (right) was awarded an Excellence in Clinical Practice award by the Gerontological Advanced Practice Nurses Association (GAPNA), pictured here with Shantha Franks (a fellow Seton Hall DNP alumna) who nominated Huryk for the award.
College of Nursing Assistant Professor Margaret (Peg) Huryk, DNP, APN-C was awarded an Excellence in Clinical Practice award by the Gerontological Advanced Practice Nurses Association (GAPNA).
The award, given out at their annual conference on September 17, goes to an individual who demonstrates a commitment to geriatric clinical practice.
Per GAPNA, the award "acknowledges an individual who demonstrates, through the use of geriatric principles, outstanding geriatric care that goes well beyond the traditional service role of their profession. The award highlights clinical practice as an important element of the mission of nursing professionals and singles out individuals who serve as examples of geriatric expertise."
"I am so humbled and honored to receive this award from my colleagues at GAPNA who recognized my efforts to manage the health care of our older adult population," said Huryk. "I am so fortunate and grateful that I found my profession early and it all started with Seton Hall University in 1976."
She received both her B.S.N. and Doctor of Nursing Practice degrees from Seton Hall. Her DNP project focused on issues related to the management of challenging behaviors in persons with dementia. She also holds a M.S.N. degree in from Rutgers University.
Serving on the Seton Hall faculty since 2005, Huryk teaches graduate courses in Advanced Health Assessment and Clinical Decision Making and Clinical Pharmacology, as well as the undergraduate Pharmacological Therapies and gerontology courses.
"Dr. Huryk has always been an advocate for older adults and veterans in her advanced practice nursing roles, so I am thrilled she is being recognized by GAPNA," said Judith Lucas, Ed.D., R.N., G.C.N.S., associate professor and associate dean of undergraduate programs in the College of Nursing. "When teaching, she has enthusiastically shared her clinical expertise and evidence-based approach to care of elders with both our undergraduate and graduate students."
In addition, Huryk has worked as geriatric nurse practitioner in long term care for the past 23 years. She is currently an adult and geriatric primary care nurse practitioner at the Raritan Bay Cardiology Group, Roosevelt Care Center, Edison, New Jersey.
Her special clinical interests are the identification and reduction of unnecessary medication in frail, elderly adults and the application of non-pharmacological interventions for persons with psychological symptoms of dementia, particularly those who live in long-term care settings. She is the subject matter expert for The Joint Commission Dementia Project 2022 to reduce the use of antipsychotics in long term care facilities in the US.
Huryk is a past board member of the New Jersey State Nurses Association and a member of the American Nurses Association and has been a frequent speaker for the American Association of Nurse Practitioners and Gerontological Advanced Practice Nurses Association. In 2017, she was recipient of the Sara M. Erickson Medal for outstanding leadership in professional nursing education.
"I am so passionate about the opportunity that I am given to partner with older adults to improve their health and help manage illness during critical points in the aging process," said Huryk, who added that she lives by the credo, "If you love what you do, you will never work a day in your life."
Categories: Health and Medicine, Nation and World