Nursing Team Presents Topical Findings at International Conference
Thursday, August 18th, 2022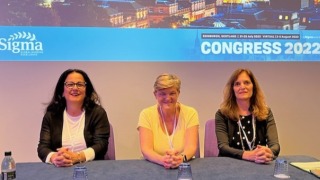 Nursing professors Kathleen Neville, Mary Ellen Roberts and Joyce Maglione presented at the Sigma Theta Tau International Nursing Research Congress in Edinburgh, Scotland.
In July, College of Nursing faculty members Drs. Judith Lothian, Joyce Maglione, Kathleen Neville, and Mary Ellen Roberts represented Seton Hall at Sigma Theta Tau International Nursing Research Congress in Edinburgh, Scotland. Each presented their research which included topics such as physiologic birth, servant leadership and spirituality, the opioid epidemic and the lived experience of COVID-19.
More than 1,200 nurse researchers, students, clinicians and leaders attended the 33rd annual conference, the most prestigious international conference for nurses. Sigma is an international community of nurses dedicated to the advancement of knowledge, teaching, learning and service. The conference — whose theme this year "Transforming Global Nursing Knowledge Through Research, Scholarship, and Innovation" — brings together nurses from around the world to disseminate and discuss current findings in nursing research.
Here are their presentations from the conference:
Mary Ellen Roberts, D.N.P., R.N., A.P.N.C., FNAP, FAANP, FAAN, COVID-19: The Lived Experience
This study revealed that persons living with COVID-19 have experienced many of the same psychological and physical symptoms and feelings, including extreme fatigue, neurological side effects and fear of the unknown. These findings will help nurses and other providers to care for patients who had Covid-19. And, although not generalizable, the results may be transferable to understanding the impact of the disease across diverse populations. The themes create an essential structure of an experience that makes enduring physical and psychological health concerns that impact life quality. The findings provide insights for nurses and health care providers on the experiences of living with COVID-19. In conclusion, the lived experience gives providers time to consider a plan of care for patients experiencing a positive diagnosis of a novel virus.
Joyce L. Maglione, Ph.D., Measurement of Servant Leadership and Spirituality Among Nursing Students
The purpose of this research was to examine the relationships between servant leadership and spirituality among nursing students. The study served to contribute to the limited understanding of servant leadership and spirituality among nursing students. Findings demonstrated that nursing students may inherently possess servant leadership and spirituality characteristics which may influence their career choice in nursing as well as further development of servant leadership and spirituality characteristics as they progress in their nursing program curriculum. In light of the current inequities in care and stressful trauma frequently experienced by nurses in health care today, the provision of curricula addressing servant leadership and spirituality assumes greater importance to support nurses as well as to deliver compassionate care during these challenging times.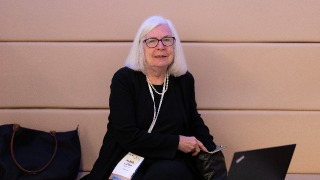 Judith Lothian (photo courtesy of Sigma)
Judith Lothian, Ph.D.., R.N., FAAN, Advancing Physiologic Birth: A Key to Reducing Maternal and Infant Morbidity and Mortality
This evidence-based presentation described the physiologic process of birth including the vital role that hormones play in the process. The presentation described the important role that pain plays in labor, insuring the release of endogenous oxytocin as labor progresses, as well as our evolving understanding of birth as a neuro-psycho-social experience. The neuro-psycho-social experience of birth as foundational to mothering was presented, as well as the influence of midwifery care and community-based childbirth on improving birth outcomes for mothers and babies. Lothian provided compelling evidence that promoting, protecting and supporting physiologic birth is necessary if maternal and newborn mortality and morbidity are to be reduced.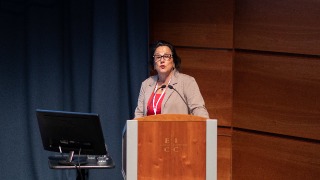 Kathleen Neville (photo courtesy of Sigma)
Kathleen Neville, Ph.D., R.N., FAAN, Enhancement of Nurse Practitioner Curricula to Combat the Opioid Epidemic
The presentation described the implementation and evaluation of an enhanced nurse practitioner (NP) curricula to include medication-assisted treatment (MAT) for opioid-use disorders. The MAT Data waiver training content was successfully embedded into the NP curricula at Seton Hall, providing state-of-the-art best evidence to prepare NP students to address the opioid epidemic. Research showed that among patients with opioid-use disorders, MAT improves both mortality and morbidity, yet remains underutilized for current and future needs due to insufficient numbers of waivered clinicians. Neville emphasized that embedding this content into NP curricula ensures sustainability of this critical education to combat the escalating opioid epidemic.
Categories: Health and Medicine, Research