Nursing Student Awarded Scholarship for Excellence in Technology and Civil Rights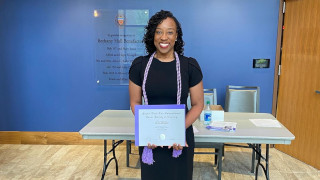 Nikia Sharp, awarded the 2023 Project Height Scholarship, was also recently inducted into the Gamma Nu chapter of Sigma Theta Tau International, the Honor Society of Nursing.
Seton Hall's College of Nursing is proud to announce that one of its students, Nikia Sharp, has been awarded the 2023 Project Height Scholarship. Sharp is one of six graduate students nationwide who were selected for the award, which provides financial support to undergraduate and graduate students with career interests at the intersection of technology and civil rights. The scholarship aims to promote and support underrepresented groups as they pursue this field of study and contribute to a safer and more inclusive tech ecosystem.
The Project Height Scholarship is named after Dr. Dorothy Irene Height, former president of the National Council of Negro Women, Inc. (NCNW), and is a joint initiative of NCNW, the Dorothy Irene Height Education Foundation, and Meta.
Sharp, a current student in the M.S.N. in Pediatric Nurse Practitioner (PNP) program, will receive $10,000 to assist with further studies at Seton Hall. In addition, she will be invited to participate in Meta-sponsored programming designed to further explore technology through a civil rights lens in the areas of data science, product management, and inclusive design and user experience.
Diane McClure, D.N.P., program director of the PNP program, expressed her pride in Sharp's achievement. "We are thrilled that Nikia has been recognized for her commitment to nursing excellence and leadership," McClure said. "This scholarship is a testament to her hard work and dedication to advancing the intersection of nursing, technology, and civil rights."
Sharp, originally from Indianapolis, Indiana, received her first undergraduate degree in Business Administration in 2003 from Florida A&M University. She worked in finance serving in various roles before pursuing her second undergraduate degree, a B.S.N. from Indiana Wesleyan University's Accelerated Nursing Program.
Sharp learned about the scholarship through her active membership with the National Council of Negro Women (NCNW), which she has been a part of since 2018, both nationally and on a local level in Montclair, N.J. Elsie Barick, an influential member from the Montclair section, encouraged Sharp to apply for the scholarship. At first, Sharp was hesitant to apply as the scholarship focused on the intersection between technology and civil rights. But as she began to dissect civil rights, she realized that healthcare in America is a basic human right, and equitable treatment within the healthcare system is a civil rights issue. "Regardless of age, class or medical condition, the right to access resources that ensure quality of life and improved health outcomes is a challenge within our current healthcare system," she said.
As a Project Height Scholar, Sharp is required to attend a series of webinars for educational enrichment. She recently completed her first webinar titled, "Building a Responsible Future: The Intersection of Civil Rights and Technology" where the topics of artificial intelligence (AI), systemic biases, and vulnerable populations were discussed. The series emphasized how imperative it is that healthcare providers advocate the regulation of medical AI and continue to promote and advocate for health equity.
Receiving the scholarship means a lot to Sharp. "As the only scholar selected from the state of New Jersey, I am honored," she said. "Receiving this scholarship will be beneficial as I continue to through the PNP Program. This scholarship is confirmation to keep going, and I humbly thank the Project Height Scholarship committee for believing in my nursing endeavors. This scholarship is a true testament that hard work and determination are rewarded to those who are resilient and confident in their purpose."
In addition to the Project Height scholarship, she received the Dr. Leona Kleinman Scholarship and was honored to be the first recipient of the Rev. Marion Franklin Scholarship from First Baptist Church-Vauxhall in Fall 2022.
Sharp chose Seton Hall for her graduate degree because the mission of the university aligns with her commitment to exceptional leadership and nursing excellence. "In each stage of my nursing journey, I have learned that our healthcare system needs a new voice, especially for children and families. As a PNP student, Seton Hall is equipping me with that voice — filled with advanced knowledge, respect and culturally competent care," she said.
When asked how Seton Hall's PNP program is preparing her for her nursing career, Sharp reflected back to her 2020 admissions essay, where she declared she intends "to establish mobile health clinics and health programs in underserved communities where disparities and misconceptions are prevalent." This semester, Sharp is serving with the inaugural Nurse-led Mobile Training Project, a partnership between Seton Hall's College of Nursing and the City of Newark. "As a Pediatric Nurse Practitioner student, I feel this opportunity is kismet in my journey in serving underserved communities," she said.
Categories: Health and Medicine, Nation and World