College of Nursing Dean Steps Down After Eight Years of Accomplishments
Tuesday, April 18th, 2023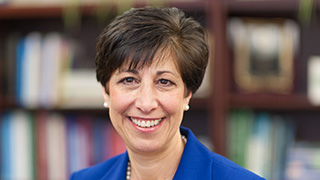 After leading the College of Nursing to greater distinction for more than eight years, Dean Marie Foley, Ph.D., R.N., C.N.L., is stepping down to pursue other opportunities.
Her deanship was marked by a host of accomplishments. She facilitated the college's transition to the Interprofessional Health Sciences campus in 2018 and helped develop the integrated approach to healthcare education for which the University has become known.
The college experienced a resurgence in B.S.N. pass rates on the NCLEX licensing exam under her leadership. Since 2019, nursing students have passed the exam at a rate of 92 to 95 percent — a roughly 40 percent increase since before her tenure.
The increase in licensure rates occurred in step with rising national rankings. The college advanced 25 places in the most recent U.S. News & World Report ranking of undergraduate nursing programs, placing Seton Hall among the top 7 percent of programs nationally and No.1 in New Jersey.
Likewise, for the past three years the college has had the top-ranked online graduate nursing programs in New Jersey and was ranked third among all Catholic universities in the country.
Among her other accomplishments:
She helped create Dedicated Education Units in partner hospitals where nursing students benefitted from collaboration between floor nurses and College of Nursing faculty members.
She worked with three hospital systems to create an Honors Synthesis Experience for graduating seniors, which allowed them to work one-on-one with experienced nurses in their final clinical. All students with these experiences were offered positions after graduation.
She oversaw the development of a psychiatric/mental health nurse practitioner program to address rising mental health concerns.
She established the position of Associate Dean of Graduate Studies and Research to assist faculty in publications and grant writing, which has resulted in more than $6 million in federal and foundational grants.
Please join us in thanking Dean Foley for her leadership and fierce dedication to the college and its students. Her last day at Seton Hall will be June 2, 2023. We will move swiftly to appoint an interim dean and will welcome nominations and self-nominations for the position to [email protected] by April 25.
Categories: Faith and Service, Health and Medicine