Stay Blue and Stop by the Green – Graduate Information Event for Undergrads
Tuesday, April 12th, 2022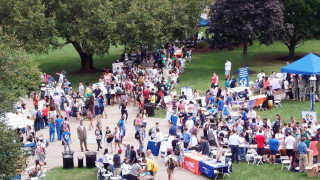 On Tuesday, May 3, current Seton Hall undergraduates will have an opportunity to learn more about the University's dual degree and graduate programs – while enjoying complimentary donuts and coffee!
At this tabling-on-the-green event, all Seton Hall students are encouraged to visit the heart of campus between noon and 3 p.m. and stop by as many tables as desired. Representatives from each school and college, including program directors and faculty members, will be available to answer any questions about their respective dual degree and graduate programs.
Why should undergrads consider pursuing a dual or graduate degree? "In the current labor market, an increasing percentage of jobs are requiring advanced degrees," explains Associate Provost for Academic and Graduate Affairs Christopher Cuccia, Ed.D. "Earning an advanced degree helps graduates differentiate themselves among the competition. In addition, a diversity of expertise can afford students greater flexibility to adapt to economic cycles and other shifts that affect any given employment sector."
Dual degree programs offer a cheaper and faster alternative to earning both an undergraduate and graduate degree, making graduate school more affordable. Furthermore, applicants to select graduate programs at Seton Hall this fall will have access to additional financial support.
"It's important that students know they have a multitude of graduate options, regardless of their undergraduate major," added Dr. Cuccia. "With the University's expansive dual-degree options, students can pursue many different degrees across fields, disciplines and colleges. In fact, many graduate programs seek candidates with undergraduate majors that differ widely from the specific graduate field."
Students who are not yet sure what their future holds can still stop by the University Green on May 3 and speak with admissions directors and faculty from each school and college. Don't forget to grab a free donut and a coffee!
Visit here to learn more about dual degree and graduate degree opportunities at Seton Hall.
Categories: Campus Life, Education