Seton Hall Undergraduates Selected to be Rangel Fellow and Rangel Scholar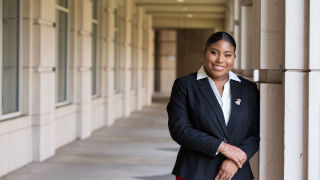 Akaysha Palmer.
Seton Hall Diplomacy and International Relations majors Akaysha Palmer and Mohamed Nezar Nokrachi have been selected respectively as a Charles B. Rangel International Affairs Fellow and as a Charles B. Rangel International Affairs Summer Enrichment Program (SEP) Scholar, programs that will help launch them on careers in the Foreign Service.
Among other accomplishments, each of these scholars has achieved a GPA of 3.8 or higher and has been named to the Dean's List while maintaining active civic engagement both on and off campus.
Akaysha Palmer, a senior who founded in October 2019 H.A.I.R. (Having Appreciation in Realness) an organization that promotes diversity and inclusion on Seton Hall's South Orange campus, has interned in the Community Affairs unit of the Office of the Mayor of New York City. In addition to her Diplomacy major, Akaysha is pursuing minors in Political Science and Spanish.
The Rangel Graduate Fellowship she was selected for prepares young scholars for careers in the Foreign Service of the U.S. Department of State and provides up to $42,000 a year for two years of graduate study, internships, mentoring, and professional development programs.
Mohamed Nezar Nokrachi, a junior who is fluent in French and Moroccan Arabic (or Darija) in addition to his native English, has interned at the American Enterprise Institute as well as at the Minaret Foundation while serving on the Honors program Student Advisory Board and the Diversity and Inclusion Grant Committee. In addition to his Diplomacy major, Nezar minors in Cybersecurity, French and Economics.
The Rangel Summer Enrichment Program for which he was selected offers a 6-week summer program in international affairs as well as the opportunity to learn more about the key institutions, foreign policy making practices and other important aspects of a career in the Foreign Service.
Asked what the Rangel SEP program means for him, Nezar responded, "Participating in the prestigious Rangel SEP will open doors for me and provide me with insight about how I may serve our country. I am looking forward to learning from foreign affairs professionals, networking and creating lifelong friendships with peers from around the country. At Seton Hall, the Honors Program Colloquia has equipped me with the critical thinking skills necessary to navigate a global environment while the School of Diplomacy and my French studies have prepared me for a global career. My Seton Hall faculty advisors, professors and peers have contributed immensely to my enthusiasm."
Akaysha reflects that "As a Diplomacy and International Relations major, courses that I have taken throughout my time at Seton Hall have prepared me for numerous career opportunities and made me a more well-rounded professional. This summer I will be interning with the House Subcommittee on Africa, Global Health, and Human Rights. Upon its completion, I will be attending Columbia University for a Master of Public Administration with a concentration in Economic and Political Development! As a young African American woman, I have admired those who came before me and the hard work that it took for them to get to where they are. I attribute my success to the support that I have received here at Seton Hall and the many opportunities and resources that I have been given."
Seton Hall is tremendously proud of their accomplishments as well as their leadership both on and off campus and we believe that they are well on their way to successful careers in the Foreign Service. Akaysha and Nezar's success is further proof that Seton Hall's programs help shape servant leaders who are increasingly recognized and competitive on the national stage.
Overview and eligibility information for the Charles B. Rangel International Affairs Graduate Fellowship Program
Overview and eligibility information for the Charles B. Rangel International Affairs Summer Enrichment Program
For more information on how to apply for a graduate fellowship, please contact:
Prestigious Fellowships Director,
Dr. Matthew Escobar
[email protected]
or either of Seton Hall's Fellowship Advisors:
Dr. Benjamin Goldfrank
[email protected]
Dr. Youssef Yacoubi
[email protected]
Categories: Education